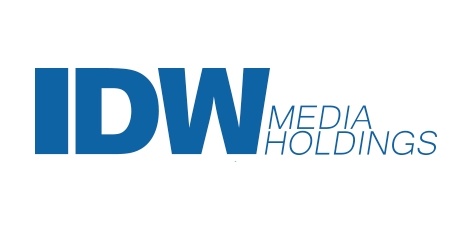 IDW Media Holdings, the parent company of IDW (IDW Publishing, IDW Games, and Top Shelf), IDW Entertainment, and CTM Media Group, reported a net profit of $3.7 million for the year ended October 31, 2016 on sales of $65.3 million. The company had a net income of $2.0 million on revenues of $23.6 million for its fiscal Q4, ended October 31.
Sales in the IDW unit were down for the year (from $28.6 million in 2015 to $27.9 million in 2016), but up for the quarter (from $8.2 million in 2015 to $9.4 million in 2016). As it did when it reported its Q3 results (see "
Sales Profits Up at IDW for Quarter, Nine Months
"), the company attributed the decline in sales for the year to "softness in the comic book publishing industry, fewer 'blockbuster' publishing titles, timing of when new titles are released and competitive pressure from the major publishers."
Profits were off more than sales in the publishing unit, with operating income of $1.8 million for 2016 vs. $3.2 million for 2015, due to a decline in gross margin and increasing expenses.
The big winner in terms of the IDW Media Holdings divisions was IDW Entertainment, which showed operating income of $1.6 million for 2016 on sales of $16.0 million, almost all new sales. The company was producing and delivering episodes of
Wynonna Earp,
its first production, during the period.
IDW Media Holdings made other progress during its last fiscal year, with a $4 million raise in a private placement (see "
IDW Raising $4 Million
"), and an improvement in the tier at which its over-the-counter stock trades (see "
IDW Shares Move Up Two Tiers
").