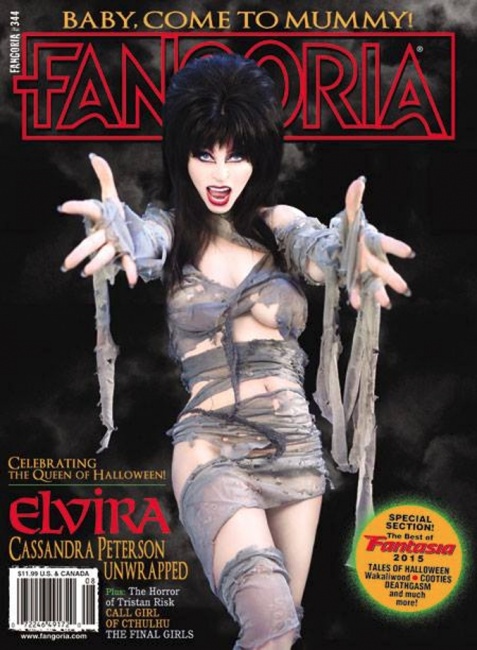 The progenitor of a new breed of horror fandom,
Fangoria
may now be at the end of its life in print. A series of Tweets by Ken Hanley, its most recent editor-in-chief, announced that he's no longer involved with the magazine and pessimistic about its future. "For those wondering; there will likely never be another issue of
Fangoria
, especially in print, unless there's new ownership," he wrote. Hanley revealed that he hadn't been involved with the magazine since mid-December.
Fangoria management responded with a post on its website, which acknowledged problems in paying its creative talent, but vowed to continue. "[W]e will be working endlessly to make good on any funds owed for magazines and/or articles written," the statement said. "In the meantime, we'll continue trying to conquer the uphill battle to restore our print issues that our fans urgently long for."
The company's problems originated with a decline in advertising for the print editions of the magazine, the statement said, which created "…a domino effect that spread throughout staff, writers, artists, subscribers, and even to our President as well."
Founded in 1979 by the publisher of Starlog and converted to a horror theme shortly thereafter, Fangoria focused on special effects and makeup in horror films, and often pushed the limits of gore, a strategy that quickly built a rabid fan base tired of the more restrained approach of magazines like Famous Monsters of Filmland.
Current ownership dates to 2009, when Creative Group, which acquired the Starlog brands in 2005, went bankrupt and The Brooklyn Company, run by longtime Fangoria President Thomas DeFeo, took over the properties (see "'Starlog' Ends Long Run").
A statement from DeFeo was included in the Fangoria announcement. "I'd like to thank readers and subscribers for their patience as we deal with our internal issues," he wrote. "We will carry forward and devote our efforts to make amends with all that have been inconvenienced in our current state of affairs."
The last print issue of the magazine was released in October 2015.