Marvel announced a new children's anime and manga series,
Marvel Future Avengers,
which will both be launched this year in Japan.
According to Animate Times via ANN, the new series will premiere this summer on the broadcast satellite channel Dlife. The series, which is geared for a young male audience, will follow Makoto, who gains superpowers due to an experiment, as he joins other children who are apprenticed to the Avengers to learn to control their powers. The "Future Avengers" join Iron Man, Captain America, Hulk, Thor, and Wasp on a variety of missions as part of their training.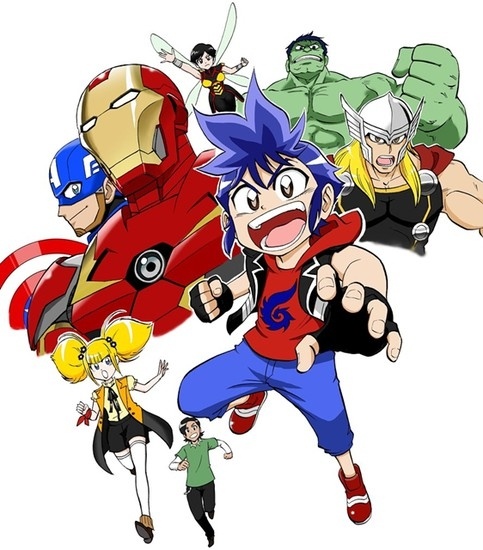 Teruaki Mizuno (
Metallica Metalluca
) is drawing a manga adaptation which will premiere in the April issue of Shogakukan's
Bessatsu Coro Coro Comics Special
magazine.
This is not the first time the Avengers have gone anime. Most recently, Marvel partnered with Madhouse and Sony Pictures Entertainment (Japan) to produce the OVA Marvel's Avengers Confidential: Black Widow & Punisher in 2014 (see "'Marvel's Avengers Confidential: Black Widow & Punisher'"). The Walt Disney Company (Japan) also produces an Avengers anime series in 2013 with Toei Animation Co. (see "New Marvel Anime for Boys"). There was also an Attack on Titan/ Marvel Comics crossover in Magazine House's Brutus magazine a few years ago (see "Japanese 'Attack on Titan'/Marvel Crossover Comic").