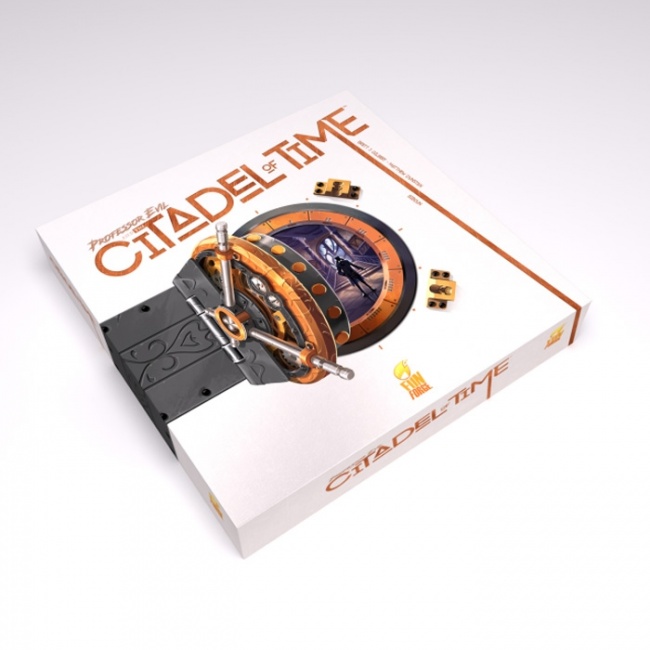 The cooperative puzzle-solving game
Professor Evil and the Citadel of Time
will be released by Passport Game Studios and Fun Forge at Gen Con this August.
The nefarious Professor Evil has stolen all of the greatest art treasures in the world and secreted them away in his enormous castle. Soon, he will complete the steps required to make his citadel impervious forever. The players must work together, using their unique special powers, to infiltrate the castle and solve the puzzles put in place by Professor Evil to free the stolen artworks before time runs out.
Professor Evil and the Citadel of Time was created by Brett J. Gilbert (Elysium, Divinare) and Matthew Dunstan (Elysium, Relic Runners) and features artwork by Christophe Fossard (Zombie 15', Nyet!). The game includes 1 game board, 47 cards, 6 pawns, 25 markers, 30 tiles, and 3 dice. It is intended for 2 to 4 players, ages 8 and up, and takes about 45 minutes to play. MSRP is $40.00.
Check out the gallery for pictures of some of the game components.
Passport plans a full release of the game into the trade during the week of Gen Con (August 17-20). The company recently released two new titles (see "'They Who Were 8' and 'Kingsport Festival - The Card Game'").
[Corrected as of April 12, 2017.] Passport also told ICv2 that Simurgh will be released by PSI in the U.S. Simurgh Call of the Dragonlord, an expansion, was announced as being part of NSKN's deal with PSI, but the base game was originally announced as staying with Passport (see "NSKN Games Joins PSI").