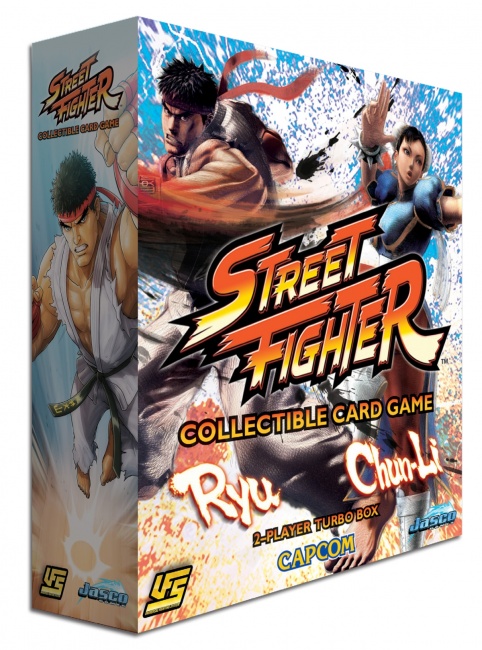 The characters from Capcom's venerable fighting game
Street Fighter
are joining Jasco Games'
Ultimate Fighting System
with the release of the
Street Fighter Collectible Card Game
, hitting the streets on May 26.
Street Fighter was one of the properties Jasco licensed in 2015 (see "Jasco Games Acquires 'Dragon Ball Z,' 'Cowboy Bebop'") for its multi-genre collectible card game. The Ultimate Fighting System is a natural fit for Street Fighter, as both games feature one-on-one martial arts style duels between fighters. The Street Fighter franchise previously appeared in UFS in 2006 - 2008, when the game was owned by Games Workshop's sister company Sabertooth Games (see "Sabertooth Adds 'Street Fighter' License") and later sold to Fantasy Flight Games (see "Fantasy Flight's GW Schedule").
The Street Fighter Collectible Card Game will be available in 2-Player Turbo Box starter set as well as randomly filled booster packs.
The Ryu vs. Chun-Li 2-Player Turbo Box includes two 41-card pre-constructed decks featuring two of Street Fighter's iconic characters: Ryu and Chun-Li. In addition, each box has two random Ultra Rare cards from the set, bringing the total to 84 cards. MSRP is $24.99.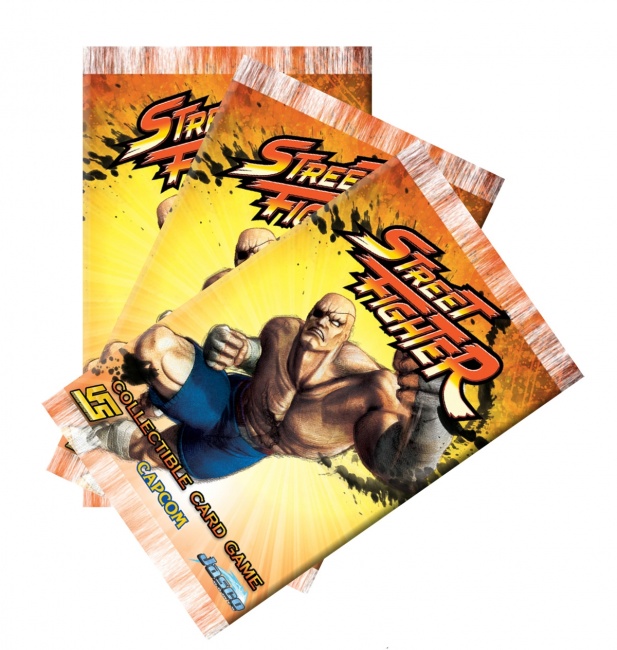 Booster packs will include 10 random cards, and are packaged in 24-pack display boxes. These cards can be used with any
Universal Fighting System
starter deck or turbo deck, and are not restricted to use with the
Street Fighter
turbo box. MSRP is $95.76 per display ($3.99 per pack).
Jasco will be supporting the launch with a one-two punch, offering retailers both a Street Fighter Collectible Card Game Pre-Release Kit and a Street Fighter Collectible Card Game Release Kit, scheduled to ship a week apart:
The Pre-Release Kit includes eight 24-pack booster displays, four exclusive Street Fighter playmats, and two sets of 19 full-art character cards depicting the characters from the game. The Pre-Release Kit will ship to arrive at retailers by May 19, and has an MSRP of $846.04.
The Release Kit will ship to arrive on the game's street date of May 26. It comes with eight Ryu vs. Chun-Li 2-player Turbo Boxes, six booster pack displays, four playmats, and two sets of full-art character cards. MSRP for the entire kit is $854.44.
Check out the gallery for images of the playmats, character cards, and booster pack artwork.
Jasco released Mega Man and Red Horizon UFS expansions last autumn (see "'Mega Man' and 'Red Horizon' Expansions for 'UFS' Card Game").