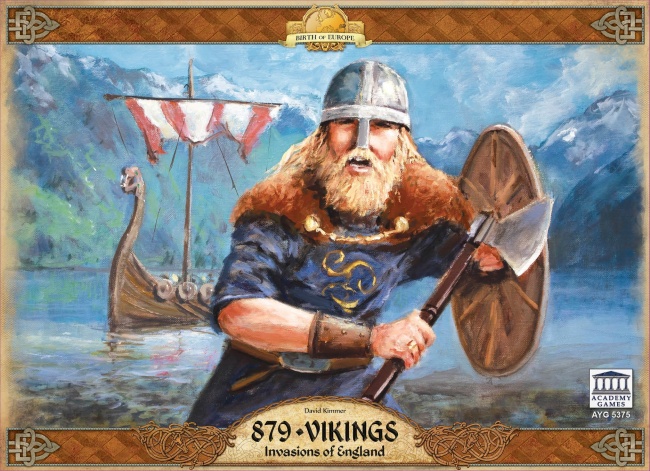 Academy Games has announced the next game in its
Birth of Europe Series
:
878 – Vikings: Invasions of England
will feature the Norse invasion of England in the 9th Century. The new game is expected to release in December.
Created by Beau Beckett, Dave Kimmel, and Jeph Stahl., 878 – Vikings pits two teams of players against each other for control of England: The Viking invaders and the English nobles trying to stop them. The alliance that can control the most territory when the Treaty of Wedmore is signed—which occurs at the time chosen by the players—wins the game.
878 – Vikings uses a random turn order and a card-based movement system to control movement, and custom dice to resolve battles, combined with an area control mechanic.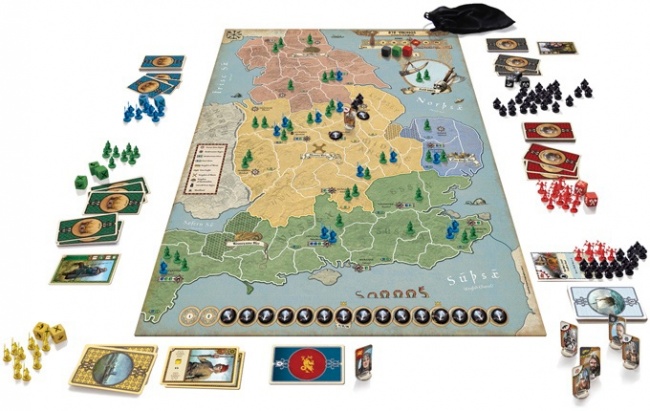 The game includes a map of medieval England, 5 sets of battle dice, 4 turn cubes, 130 plastic minis, 7 stand up leader markers, 17 control markers, a faction and movement deck for each player, and a cloth bag. The game can be played by 2 to 4 players, ages 10 and up, and takes 1 to 2 hours to play. MSRP is $70.00.
Academy Games will support the release with a Viking Age Expansion set and two boxed sets of miniatures: Leader Miniatures to replace the stand-up leader markers and Building Miniatures to represent centers constructed by the Viking invaders.
Academy Games funded the project in the first 14 minutes of its Kickstarter campaign, attracting over $500,000 in pledged support from more than 5,000 backers as the campaign entered its last day. Kickstarter backer copies are scheduled to ship in August, with release into the trade expected to follow in December.
Last year, Academy Games released an historical game set in the ancient world, Mare Nostrum—Empires (see "Academy Games Announces Spring Releases").