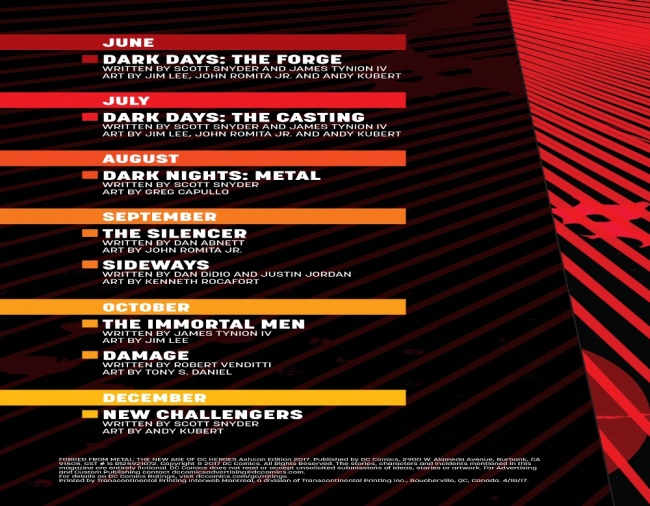 At the Diamond Retailer Summit in Chicago, DC Entertainment unveiled five new DC Universe "Dark Matter" titles launching out of the Batman miniseries
Dark Nights: Metal:
The Silencer, Sideways, Immortal men, Damage,
and
New Challengers
.
The
Dark Matter
banner will be overseen by artists Greg Capullo, Andy Kubert, Jim Lee, and John Romita Jr. The characters for each of the five titles will appear in
Dark Nights: Metal
(see "
'Dark Nights' for Batman
"), which debuts in August.
The Silencer
, written by Dan Abnett and drawn by John Romita Jr., will launch in September. Honor Guest was a world-class assassin, until she retired to the suburbs. But her past comes back to haunt her, and she'll have to don the mantle of The Silencer to protect her new life.
Sideways,
written by Dan Didio and Justin Jordan, with art by Kenneth Rocafort, will also debut in September. A teenager lived through the
Dark Nights: Metal
, but not unchanged. He can now teleport through the Dark Dimension, but if he uses his power, he is drawn closer to its dark source.
Immortal Men
is written by James Tynion IV with art by Jim Lee. Five immortal siblings work behind the scenes to help the forces of good stave off those who would bring about Armageddon. The series launches in October.
Damage
is written by Robert Venditti, with art by Tony S. Daniel. Debuting in October, the series follows Ethan Avery, an idealistic soldier who volunteers to become a living weapon. Now, for one hour at a time, he can unleash a superpowered monster. If he can learn to control his monstrous alter ego, maybe he can do some good.
New Challengers,
written by Scott Snyder and drawn by Andy Kubert, will debut in December. It's a new cast and a new mission, but these characters have access to the history and greatness of the original Challengers of the Unknown.
See teaser images in the gallery below.