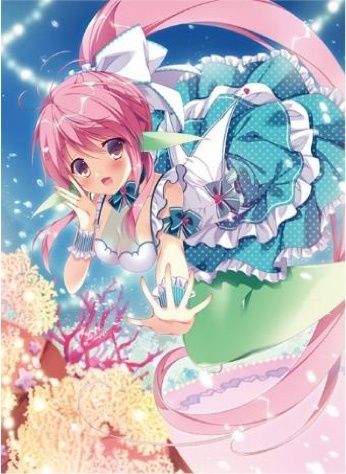 The once-a-year mermaid-themed
Cardfight!! Vanguard G
expansion for 2017 will be
Prismatic Divas
, which will release on July 14.
The cards in Prismatic Divas will be the only Bermuda Triangle clan offering this year. They are designed to work well with the Debut of the Divas Trial Deck, also releasing on July 14 (see "Bushiroad Teases 'Cardfight!! Vanguard G' Releases"). Together, these two releases introduce the new "Chouchou" theme.
The complete set includes 60 card types, with 57 new cards and 3 reissued cards. The rarities will be 2 GR, 7 RRR, 10 RR, 18 R, and 23 C. There will also be 16 parallel SP cards, all featuring alternative swimsuit illustrations of the characters. Some cards will also be offered in special "white" and "black" versions of the illustrations, though with identical names and abilities. Each 7-card pack will include one R or higher rarity card, and will be available in 12 pack displays.
Some displays will also contain SP Clan Packs. There will be seven different idols featured in these Clan Packs: Chouchou, Pacifica, Riviere, Lauris, Raindear, Coral, and Duo. Duo packs will also feature alternative "white" and "black" versions.
As an additional incentive, one rubber playmat will be packed in each full carton of 24 displays.
See the gallery for sample images of card art from this set.
Prismatic Divas will be available for pre-sale at Bushiroad's Grand Festival event on July 1 and 2, but without the special PR cards, which will only be available as part of the general release.
Bushiroad recently announced plans for Dragoborne, a trading card game designed by Mike Elliott (see "Bushiroad Unveils 'Dragoborne' TCG").