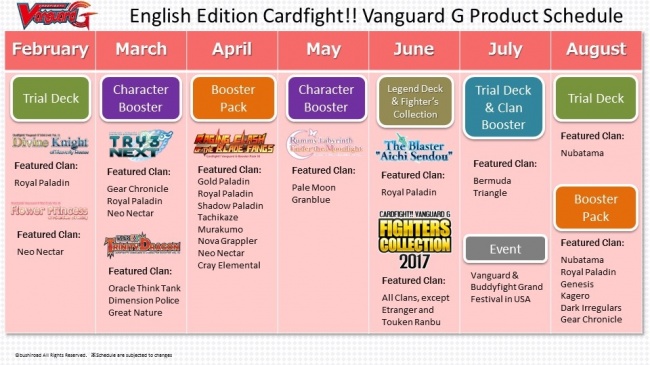 Bushiroad has shared information on upcoming releases for its
Cardfight!! Vanguard G
trading card game.
Bushiroad previously announced upcoming releases through May (see "'Rummy Labyrinth Under the Moonlight'"), and now its teasing releases through August.
A new Legend Deck focusing on cardfighter Aichi Sendou will release in June. The deck will include new cards for classic units like the Blaster Blade, Gallatin, and Marron.
Also releasing in June will be Cardfight!! Vanguard G Fighters Collection 2017. The collection will feature power up cards for all clans, except Etranger and Touken Ranbu.
The mermaid idols from the Bermuda Triangle Clan return in July with a new Trial Deck and Clan Booster.
Onimaru Kazumi's Nubatama deck will be released as a Trial Deck in August. G Booster Pack 11 will also release in August, boosting Nubatama, Royal Paladin, Genesis, Kagero, Dark Irregulars, and Gear Chronicle deck holders.
The Bushiroad Championship Series is divided into two circuits this year, the Spring Circuit runs from March to July, and the Autumn Circuit runs from August through November (see "Bushiroad Championship Series 2017").
See five promotional images in the gallery below!