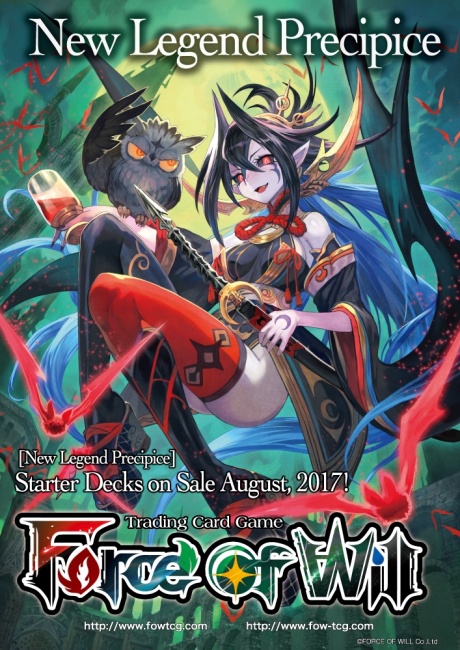 Force of Will, Inc. announced the start of a new cluster for its
Force of Will
trading card game in August. The five new
Starter Decks
for the
New Legend Precipice Cluster
will release on August 18.
Each of the Starter Decks includes a 51-card deck: 1 Ruler (foil), 28 Resonators, 12 Chants, 4 Special Magic Stones (foil), and 6 Basic Magic Stones (foil). Each display box contains five identical Starter Decks, and each carton contains eight display boxes.
The five types of New Legend Precipice Starter Decks include:
Darkness Starter Deck – Children of the Night
Fire Starter Deck – Blood of Dragons
Wind Starter Deck – Elemental Surge
Water Starter Deck – Below the Waves
Light Starter Deck – King of the Mountain
A long time ago, a dark castle appeared in the night. The master invited four heroes from different realms to join her for a feast: the king of the mountain horde, the merfolk princess, the dragonoid champion, and an elemental prodigy. What dark secrets will the guests uncover in the dark castle?
The Lapis Cluster series will conclude with the release of the Echoes of the New World booster on June 23 (see "'Lapis Cluster' for 'Force of Will' Reaches Climax").
Force of Will is also launching two new trading card games this fall, Caster (see " New TCG 'Caster' Launching This Fall ") and Architect (see "Great Minds Clash in New TCG 'Architect'").
See art images for all five decks in the gallery below!