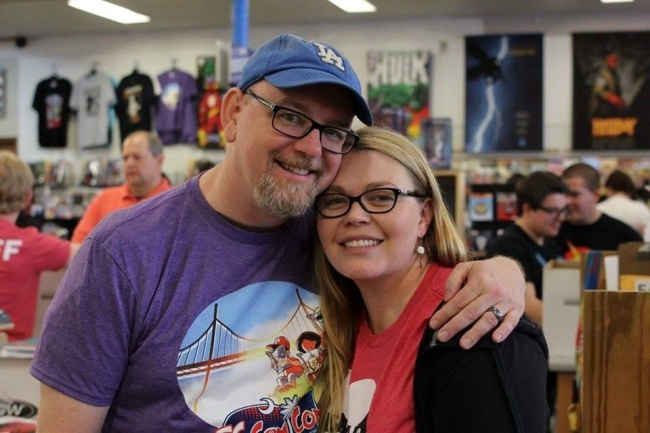 In Business 3x3, a business retailer or executive will share their experience with three things they've done right, three things they've done wrong, and what else they've learned along the way.
It took three decades for Rob Young to wind up where he wanted to be, but he finally made it: He's the owner of his own business, Borderlands Comics and Games.
Young worked retail selling shoes and selling books when he got a fateful call and an offer in 1991: Come to Greenville, SC to get into the comics biz. Young lived three hours away in Winston-Salem, NC, and had never been to Greenville. But he took the job, sight unseen.
He managed a Heroes Aren't Hard to Find store in Greenville, and would occasionally bounce out of comics, also working in manufacturing, desktop publishing, and IT. Then when Stan Reed bought the store and changed the name to Borderlands, Young started a ritual.
Every year from 1996 to 2010, Young would take Reed to dinner, and offer to buy the store. For 14 years, Reed declined (and Young picked up the check). Until 2010, and that day Reed bought dinner.
"He wrote a number on the back of the receipt and slid it across the table to me," Young says. 'He said, 'You deserve your chance.'"
Young was terrified, but his wife, Michele, showed him the way.
"I told my wife we had a number, and I asked her if that number would work. She asked me, 'Have you told him yes yet?' I told her I needed to sleep on it, because it's the biggest decision of my life. She said, 'Well, let's talk again after you've told him yes.'"
On Jan. 1, 2011, Young became the owner of Borderlands, and he recently expanded with the SC Comicon in 2014.
Both the store and the con are burgeoning, and Young has learned much along the way.
THE GOOD
Make Sure Your Family's On Board
It may have taken a decade-plus for Young to buy the store, but that time allowed him to understand the commitment involved… and get his wife to play ball.
"If there's anything I want to tell anybody about this, it's to make sure your family and everyone in your life is on board, and they're prepared for the amount of time and effort it's going to take," Young says.
Young says for the first nine months of his ownership, he averaged about 100 hours a week working on the store. "Now I'm down to 65 to 70, and honestly, it doesn't feel that bad," he says. "I can find the time early in the morning, or I'm working at night when everyone else is asleep."
Young adds, "I wouldn't change a single thing. How many jobs can you knock off for a few hours in the middle of the day to play catch with your kid, and then come back to later? The hours are long, but they're fun. And the flexibility is great."
Hire From Outside
Part of what gives Young that flexibility is the right staff. He went more than just one arm's length away to get the right people.
"My store manager was a manager for [supermarket chain] Aldi," Young says. "Being able to take him away was huge. He's been outstanding. He had his big-company experience, and now he likes the flexibility of working for us. "
Young thinks his manager likely got out at the right time, and that the tide is turning in retail.
"I've been saying for years that the big box retail model is going to fail, and I think we're seeing it now," he says. "It doesn't focus on service. It doesn't focus on creating relationships with customers. It doesn't educate you, or show you something new. You walk in, you get what you're looking for, you walk out. And now we're seeing all these big chains closing stores. But you know what? Our industry is growing every year."
Always Improve
Young is a firm believer that a store can't stand still—it has to be constantly improving.
"I got custom fixtures done," he remarks. "I didn't want to right off the bat. I got stock items, because I wanted to retain a mom-and-pop feel to the store. Now we've created a drawer system for back issues. We had new counters made. It was something I resisted, but it's been real good."
Young says the fixtures are more than just fixtures—they're a clear signal to your customers that you're trying to improve. And they appreciate it.
"They notice it," he says. "They see you're trying to improve their experience in the store, and it keeps them coming back. They mention it to us, and we acknowledge what they're saying. It makes them feel a part."
THE BAD
Don't Avoid Networking
After buying his store, Young had an inkling other retailers would jealously guard their trade secrets. It took him a while to realize he was wrong.
"It never occurred to me in the beginning that it would benefit me to go to things like the ComicsPRO meetings and the Diamond Summits," Young says. "I didn't understand that fellow retailers in different states would be willing to share information with me."
Young finally relented and tried the ComicsPRO meeting in Atlanta in 2014. "It was an epiphany moment," he says. "When a guy's been in the business for 30 years and is willing to share information, as happens a lot, there's a lot of wisdom there. Learning that has changed my life and helped my store. I'd recommend every single retailer do it."
Let Employees Go When It's Time
Not every hire is perfect, and Young is still learning to try to trust his gut.
"You might want to talk to employees who aren't working out, see what's happening, see if they misunderstood something, but… those situations have never turned out the way you want them to. When it's time to let them go, let them go," he says.
Young is also learning to overcome his own trepidation.
"You fear it's going to hurt your business," he says. "You think maybe they have friends and those friends won't patronize your store, but it won't hurt you. Even if it does, one friend isn't going to hurt your business if you're running it right."
Young is also realizing there's a halo effect at the end.
"It's never an easy thing, but it's worth doing," he says. "Then the rest of your team appreciates it, because they won't have to work with that person anymore."
Embrace Those Back Issues
The great rub of comic retail seems to be: Are you a new book store? Or used? Young's philosophy started in the former, and has come around to the latter.
"When I originally opened, I didn't want to do back issues," he says. "When I took over the shop, the consensus of the industry was back issues were going away. Originally I didn't want to do it. And that was a huge mistake."
Young says his turnaround came from simply listening to his customers.
"They tell me what they want, and they often say, 'I'm going to get this anyway. I'd rather buy it from you. If you don't have it, you're just making me go to your competitors.'"
Young says he's gone from 20,000 back issues to 400,000 in six-plus years, and the category represents 17% of his total sales.
AND WHAT ELSE?
"I think this has been the greatest decision I've ever made, and the greatest job I've ever had in my life. I've made friends in this industry who have changed my life. It's so nice when there are creators, talent you know where you know their work, and now suddenly you can sit down and have a drink with them and they're your peers. That's really neat."
"Our job is to create a memory. For our customers, for our employees, for anyone we come in contact with. If you do that, create a memory, it makes any hours and effort you put in worth it. I have kids who bring in their report cards, because they know if they bring me straight As, I'll do something special for them. They'll get a free comic book, Pokemon cards, whatever. So I've created this memory with them, and they'll be back next semester. And you know what? It helps them work harder in school."
"You hear guys saying they don't want to carry toys, Pokemon cards, Gundam models, whatever, because they're a comic shop. I think that's insane. I want them to buy it from me. Why chase money out the door? Listen to your customers. They'll tell you what you should be selling. I think a lot of guys don't come from retail, but rather from what they love. Well, I'm a big comic guy! I love comic books! But I'll sell anything comic-adjacent, games, whatever."
"The convention was a really neat way to grow my exposure in the town, and even statewide. It's netted us new relationships, big collections, new people. Doing a con was a terrifying thing the first time around, but the growth was the best thing for me."
"You always hear people say 'do the right thing; it'll come back to you,' and I've always functioned off that. We've raised $50,000 for St. Baldrick's Foundation for children's cancer, we've done blood drives that have gathered 1300-1400 pints of blood, we've got somewhere around 12 tons of food for our local food bank. Those things are cool, and you have to realize you can use this job as a platform to help other people. It's a motivator, for me, for our employees, for everyone."
"I'm always the underdog, at least in my head. And I think if you keep that attitude and you remain humble, you keep striving, keep working for that next thing that's ahead for you. I always think of [Hall of Fame wide receiver] Jerry Rice. He was the greatest player on his team, but he was always the first guy into training camp. He never took anything for granted. He showed up and he went to work every day. If you show up and bring your lunch bucket every day, that's what keeps you moving."
Click gallery below for store images.