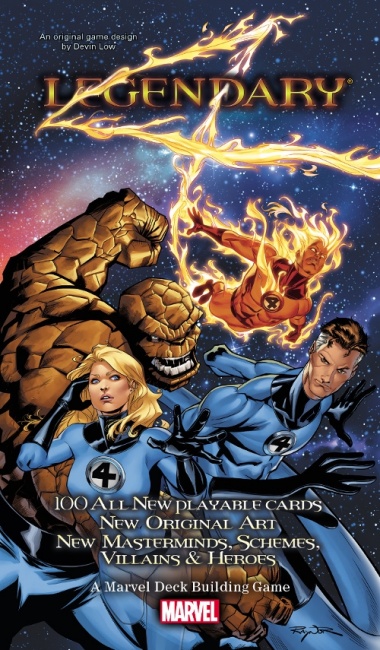 After a period of several years in which Upper Deck's
Marvel Legendary: Fantastic Four
expansion has been unavailable, Upper Deck Senior Brand Manager Jason Brenner has revealed to ICv2 that the company has been authorized to immediately go back to press on a new printing of the product, which will be available in six to eight weeks.
Marvel Legendary: Fantastic Four
was originally released in Q4 2013 (see "
Details on 'Marvel Legendary: Fantastic Four'
"), and quickly went out of print. There were no additional printings until now, which Brenner described as a "licensor-controlled issue." After recent discussions with Marvel, Upper Deck received authorization to proceed with this reprinting.
From our 2013 description:
Marvel Legendary: Fantastic Four
has "hero art by Ale Garza (
Uncanny X-Force, DC Teen Titans
), villain art by J.J. Kirby
(Backlash, Wetworks
) and box art by Nigel Raynor (
Battlestar Galactica, Green Hornet: Parallel Lives
). The expansion features the Fantastic Four and Silver Surfer in combat with Mastermind Galactus. Included are five heroes, two new villain groups and two new Masterminds. MSRP is $19.99."
All content, packaging, and price will remain the same for this new printing.