In Business 3x3, a business retailer or executive will share their experience with three things they've done right, three things they've done wrong, and what else they've learned along the way.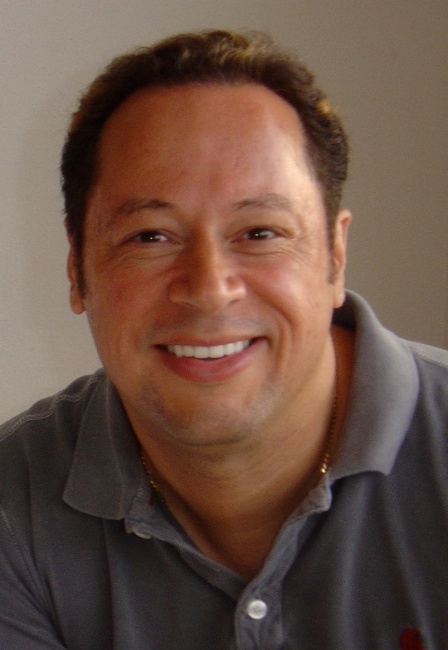 Joe Quesada is Chief Creative Officer of Marvel Entertainment, a broad and always-changing job that encompasses comics, TV, and…well, he'll get in to the theme parks in a bit.
But deep inside, he's still a baseball-playing, comic-reading kid from Queens, N.Y.
Quesada was a floor salesman at FAO Schwartz before he angled his way into comics, with freelance art stints that led him through Valiant Comics, Marvel, and DC.
In 1994, Quesada and partner Jimmy Palmiotti founded Event Comics, their own publishing company. By 1998, Marvel contracted with Event to create "Marvel Knights," a research-and-development-styled wing under the Marvel umbrella. When Marvel Knights prospered, Quesada did as well. By 2000, he was named Marvel's editor in chief.
Quesada was kicked upstairs into a newly created Chief Creative Officer position in 2010, but so very much of what he's learned, good and bad, was formed in his early days as a professional, and even from back in the neighborhood.
THE GOOD
Always Ask Questions
Quesada thinks his inquisitive nature has been a great boon to him.
"When I was starting out in the world of business and art, I loved to find role models," he says. "If you can learn from someone else's mistakes without having to make them yourself, you've cut the time between 'just starting out' and 'successful' exponentially."
Quesada asked lots of questions when he was just starting out as an artist… and made sure not to step on the land mines revealed to him.
"When I started, I was a colorist at Valiant. Pencilers would come in with their work, and I would ask them, 'Hey, when you took your portfolio around, what were the problems you ran into?' They'd tell me what was right, what was wrong, what publishers wanted to see. So when it came time for me to create my portfolio, I got hired on the spot. I know I would have made a lot of mistakes if I hadn't asked those questions."
Quesada feels this approach can be broadly applied, and serves him well to this day.
"It's like that with anything," he says. "I don't care how much I think I know, I'm always going to find someone who knows more, and ask them questions."
Most Importantly: Ask 'Why?'
Quesada puts a finer point on his broad questioning approach.
"The most important question you can ask is 'why?'" he says. "This was especially true when I became Editor in Chief at Marvel. At the time, we were in Chapter 11, and there were a lot of 'rules' of storytelling there, things we couldn't do. In some cases, there are some very valuable rules, but in other cases, it didn't make much sense."
Quesada points to Wolverine's origin, or rather, his lack thereof.
"The feeling in editorial was, 'What makes him interesting is that he's this man of mystery, and you really don't know who he is.' But if you asked the editors if they really felt that, it came down to, 'I don't know, but I've heard that. And it's what the guy before me did.' There were so many things at Marvel that were that way."
Marvel did Wolverine's origin story, and it became a huge seller. Quesada believes in asking why to find if there's an essential truth, or just an easy out.
"Once you drill down and realize you're just reciting things by rote that have become rule, you're now free," he says. "You're free to make a choice, and maybe change the status quo. You're free to be creative. Just ask 'why?'"
Turn Lemons into Lemonade (With Stan Lee)
Marvel prospered post-2000, and quickly emerged from bankruptcy. That woke the competition.
"There was a point when DC took one or two of our big-name talents," Quesada remembers. "And I was kind of pissed off. I was blindsided. They hid the fact that they were talking to DC, and didn't give us the chance to counter, because DC would have pulled the deal if they had. I realized it was just business, but more important to me at the time was that these were friends. They way I always ran my business is that I always had good relationships with the people I worked with. I trusted them, and I felt I was worthy of their trust."
Quesada admits it stung when talent left.
"It personally hurt. I was legitimately angry and sad," he says. But he fond solace in a blast from the past.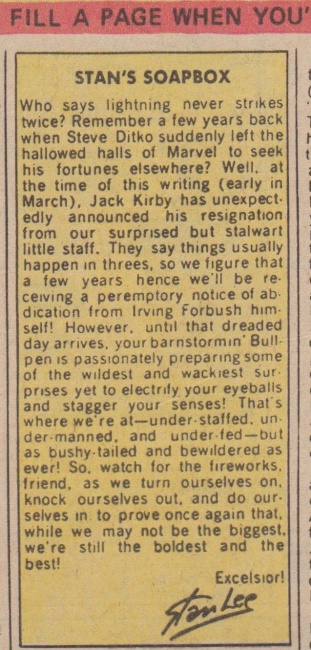 "I go back to that Stan's Soapbox from when Jack Kirby left [March, 1970]," Quesada says. "Stan said, 'Jack's gone off to other pastures, but we're okay. We'll move along, because we still have the rest of the team.' And he's right. And when you listen to that voice, you can find strength and come back stronger and get creative and come back with solutions. I have learned to make lemonade when life gives you lemons."
THE BAD
Learn to Be Corporate
Those 2000-era days also included a learning curve and some speed bumps for Quesada.
"When I entered the corporate world, I was not ready," he admits. "I was this creative guy with Event Comics or even Marvel Knights. And I was this kid from Queens, who grew up with a very close-knit group of friends. I valued friendship above all else."
Quesada says that he quickly leaned there were different responsibilities in being an executive.
"There was a moment at Marvel, very early in my tenure, where I got caught between friendship and what's right for the company," he says. "These weren't the streets of Queens anymore."
Quesada swallowed hard and sided with his new responsibilities as a corporate officer at Marvel.
"I learned that I had to look at the way I handled my role at Marvel and my relationships through a much wider lens," he says. "I had to open my eyes to the fact that there was a much larger group of people who were counting on me and to whom I was responsible. Sometimes that meant making hard decisions that could affect friends adversely."
Deliver Tough News
Quesada now knows that publishing and all of Marvel's businesses can be a fast-changing sea.
"Plans change, the business changes, the economy changes," he muses. "Sometimes, people get hit with bad news, and that includes me. I promise our talent that if there's bad news to be had that I'll tell them, straight up. If I was on the other side, that's how I'd want to be treated. Look, it's bad and it's sad when a book gets canceled or whatever the case may be. It's not easy to hear, 'Look, we have to do this,' but again, I'll always try to explain the 'why.' And I think that's been beneficial to maintaining relationships. I always want to treat people straight up."
Quesada admits it's more an art than a science.
"Marvel business is still personal to me," he says. "I can't help it. I can't help it! I'm better these days at separating business from personal, but I view Marvel like extended family as well. The people I work with become part of the family. This is just my gang of guys and gals."
Flex Your Time
Quesada had a career as a freelance artist before landing at Marvel and still logs his hours at the drawing board. He's learned a painful lesson about how to do it right.
"Some days you hit the table and it's 'Holy crap, I can draw anything!' And it's just flowing," he says. "And there are other days where you can't make two eyes line up. You can erase and re-draw and erase and re-draw, and you can waste 10 hours trying to draw two eyes in one panel. It's frustrating, frustrating, frustrating."
Quesada says he gives this advice to young artists all the time: You can't beat a problem into submission, and you have to learn to forgive yourself.
"When you're an artist, pretty much any day can be a Saturday," he says. "You just have to make up for it next Saturday. You can make your own weekends. You just have to understand your own creative process, and recognize the days when you can really do the job."
Quesada says that, "there are green days and not-so-green days when you're drawing. Bag it if you have to. Take the day off, and hit it again the next day. You know what? Those eyes line up."
AND WHAT ELSE?
"I do my best to surround myself with people who are more talented than me. I've seen way too many people in the worlds of entertainment, art, whatever, who live in fear of, 'If I bring in someone smarter or more talented than me, it's going to threaten my position.' But it won't. It will make for a better product, 100% of the time. And that's an amazingly positive reflection on you."
"That's the great lesson of playing sports, being on teams. Everything is a team. You always want the best players on your team."
"These days, it's not just comics I'm involved it. It's comics, it's movies, it's television. It's theme parks! I walked into the world of theme parks without knowing the first thing of what they were about, but I was lucky enough to be working with Joe Rohde, who's part of the team on Guardians of the Galaxy, and I asked Joe, 'Please school me on your thought process.' Joe created Animal Kingdom at Disney World, which is a revolutionary theme park, and he gave me a guided tour, from the visitor's view and behind the curtain. It was in invaluable experience, but I only got it because I asked 'why?'"
"When you're an artist or a writer, you face two deadly demons every morning: The blank page, and the four walls of your room. And somewhere between that and time you put something actually worthwhile on that paper can lie madness."
"I'm sure you could find some people who hate my living, breathing guts, but once I'm in your corner, I'm in your corner. I think people know that about me. I hope so, at least."