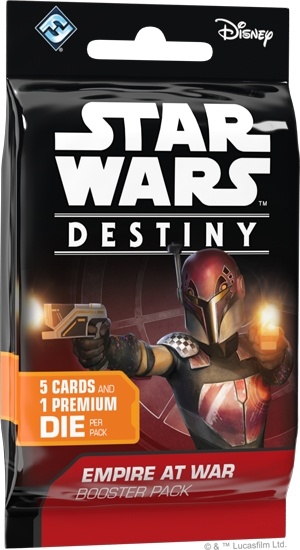 Fantasy Flight Games has shared details and images for the upcoming
Star Wars: Destiny - Empire at War Booster Pack
release for the popular collectible dice and card game which releases in Q3.
The new booster set's name was revealed at the Star Wars Celebration in Orlando in April (see "FFG Reveals Next 'Star Wars: Destiny' Release"). The third booster set focuses on the chaos found during the dark and chaotic times that envelop the Star Wars galaxy, and how those themes can disrupt opponent's plans and destroy their boards. The 160-card booster set includes new characters, such as the crew of the Ghost, new supports, upgrades and events.
Each pack includes five randomized cards and one premium die, include three common cards, one uncommon, and one rare or legendary card. Each display case includes 36 booster packs.
See multiple card images in the gallery below.