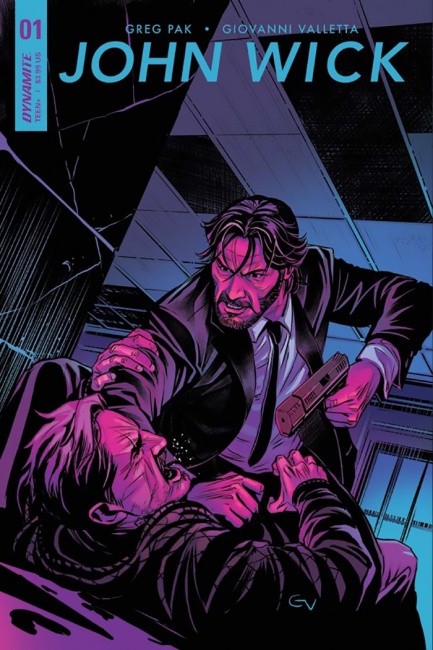 Dynamite has revealed the creative team behind its series based on the hit John Wick film franchise (see "
Dynamite Gets 'John Wick'
").
Award-winning Planet Hulk writer Greg Pak will be joining artist Giovanni Valletta (Dark Horse Presents) on the series, which serves as an origin story for the character. The first issue will be in stores on September 6. The first issue sports a cover by Valletta; a variant by Denys Cowan, inked by Bill Sienkiewicz and colored by Elizabeth Breitweiser; and a cover featuring a photo still from the films.
In the comic, young John Wick is released from prison and embarks on a quest for revenge only to encounter the esoteric and intricately organized community of assassins that populates the stylish films.
"I was on board pretty much as soon as I got the call and heard 'John Wick,'" says Pak. "I'm a huge Keanu Reeves fan and loved the John Wick movies, which had the kind of kinetic action and intriguing mythology that seemed like a perfect fit for comics."
The Keanu Reeves-led action film franchise from Lionsgate debuted in 2014 to a sterling 86% positive rating on Rotten Tomatoes and a better-than-expected box office take (see "Keanu Reeves' 'John Wick' a Strong Second"), ultimately taking in more than $90 million. John Wick Chapter 2 opened in February and currently stands 89% fresh on Rotten Tomatoes, with a $165 million take to date. The DVD of the second film dropped a little over a week ago (see "DVD Round-Up: 'The Lego Batman Movie,' 'John Wick, Chapter 2,' 'Dark Matter,' 'Grimm,' & 'Outlaw Star'").
See all three covers in the gallery below.