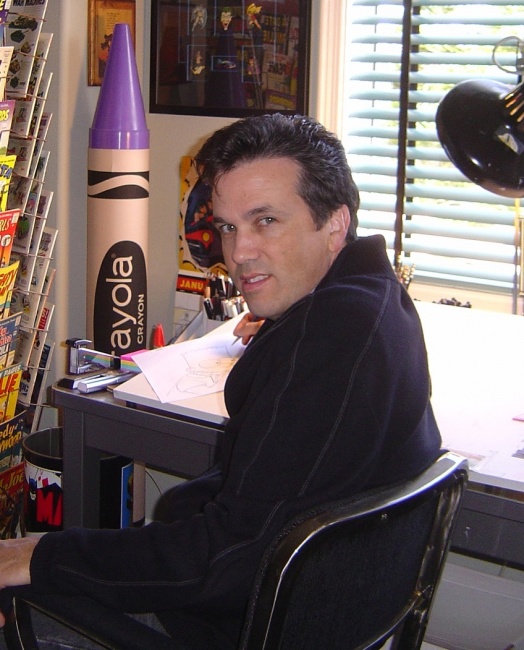 Mad Magazine
has named Bill Morrison as incoming Executive Editor for the long-running humor publication. Morrison will assist in the transition of relocating the magazine's operations to DC Entertainment's headquarters in Burbank, CA. Current Executive Editor John Ficarra and other members of the "The Usual Gang of Idiots" will continue to publish
Mad
at the company's New York offices through the end of the year.
Morrison will report to Hank Kanalz, SVP, Editorial Strategy & Administration, DC Entertainment. Morrison will begin to take on day-to-day operations for the magazine, hire and direct the editorial and creative team for Mad Magazine and Mad books, and manage the development and implementation of the annual publishing schedule.
"We're excited to have Bill on board as part of the MAD editorial family," said Kanalz. "His pedigree as an editor, writer and artist make him the ideal person to lead the Usual Gang of Idiots out west. The bar has been set pretty high, but we have confidence that the team will find stools tall enough."
Morrison co-founded Bongo Comics Group with The Simpsons creator Matt Groening, and was creative director there from 1993 to 2012. He drew the first Simpsons comic book, Simpsons Comics #1, which earned him an Eisner award. He currently serves as president of the National Cartoonists Society.
"Joining up with the crew at Mad is thrilling, exciting and an incredible responsibility," said Morrison. "I don't know anyone who loves and respects Mad as much as I do. I'll definitely have my work cut out for me, but I'm dedicated to upholding the high standards of absurd and irreverent humor that the public has come to expect from Mad. I've been asked if I will continue to include artist Al Jaffee in the magazine; as soon as I find out who he is, I'll let everyone know." (see "Al Jaffee Sets Record for Longest Career as a Comics Artist").
DC Entertainment announced it was relocating its DC Comics offices to Burbank, CA in 2013 (see "DC Comics Leaving New York") completing the transition by 2015 (see "Half of DC's Employees Made the Move to Burbank").