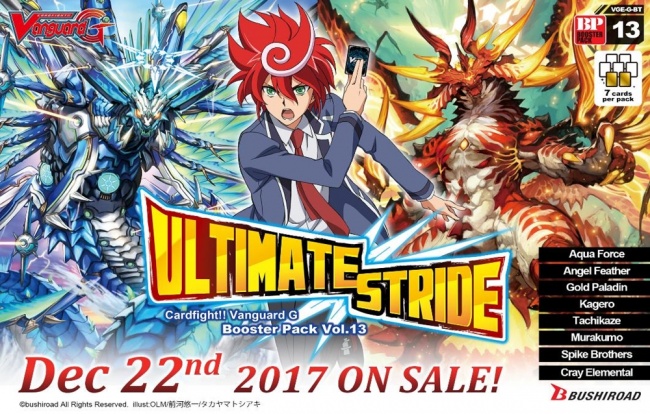 Bushiroad will introduce new deck dynamics and reissue popular unit cards for
Cardfight!! Vanguard G
with the release of
Booster Pack Vol. 13 - Ultimate Stride
on December 22.
Ultimate Stride allows players to construct a powerful deck using only this booster. It adds Aqua Force, a new deck used by a Diffrider, that includes all the Trigger Units and boosts "Maelstrom" and "Thavas." Also, Angel Feather, which introduces a Grade 3 "Gavrail" and adds more pressure with Rescue Checks. There are also Super Power-ups for "Overlord," "Gurguit," "Yasuie" and "Gaia" Units. Several popular Units are reissued as RRR cards in this booster: "Black Shiver, Gavrail," "Emperor Dragon, Gaia Emperor," "Blue Wave Marshal Dragon, Tetra-boil Dragon," "One Who Surpasses the Storm, Thavas,' and 'Great Warrior, Dudley Geronimo." Finally, the new Z-Rare rarity is introduced.
This set includes a total of 110 card types with 104 new cards and 6 reissued cards, with the following rarities: ZR: 2, GR: 2, RRR: 9, RR: 14, R: 25, and C: 58. In addition, 12 SP Parallel cards and 5 reissue cards are available. Cards will be available in 7-card packs, each of which will have 2 R or higher rarity cards.
See the gallery for sample images of card art from this set.
To support the launch of the new booster, Bushiroad is offering a Sneak Preview Kit for stores that will host events during the weekend of December 15 - 17. Each Sneak Preview Kit comes with 39 booster packs, 9 promo cards, and 2 premium rubber playmats. Each kit is designed to support 8 participants.
This release will follow the December 1 release of Cardfight!! Vanguard G Trial Deck 15 – Messiah Dragon of Rebirth and Clan Booster 6: Rondeau of Chaos and Salvation aimed at Link Joker Clan players (see "'Cardfight!! Vanguard G' Powers Up Link Joker Clan"). Cardfight!! Vanguard G Booster 12 – Dragon King's Awakening will release on October 13 (see "'Dragon King's Awakening'").