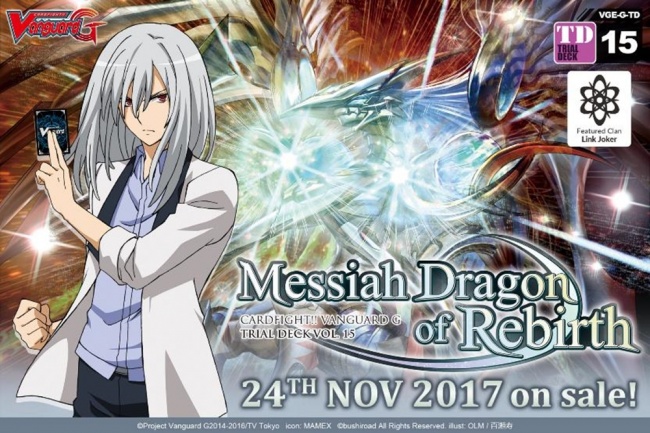 Bushiroad has shared details on the next
Trial Deck
and
Clan Booster
for the Link Joker clan of its
Cardfight!! Vanguard G
trading card game, releasing on
November 24
[Editor's Note: Bushiroad has updated release to December 1. -8/23/17)]
.
Based on Kouji Ibuki's deck from the animation, Cardfight!! Vanguard G Trial Deck 15 -Messiah Dragon of Rebirth introduces the new Grade 3 Messiah as well as including reissues of Alter Ego Messiah, Arrester Messiah, Destiny Dealer, and Beloved Child of Superstring Theory. The deck will include 54 cards (50 card deck + 4 G unit cards), as well as a first guide, playmat, Link Joker clan card, and a Vanguard G postcard. The deck includes 18 types of cards, 14 new cards, plus the 4 reissued cards, inclusive of 4 holo cards. A hot-stamped version of the Grade 3 Messiah card will be inserted randomly in decks.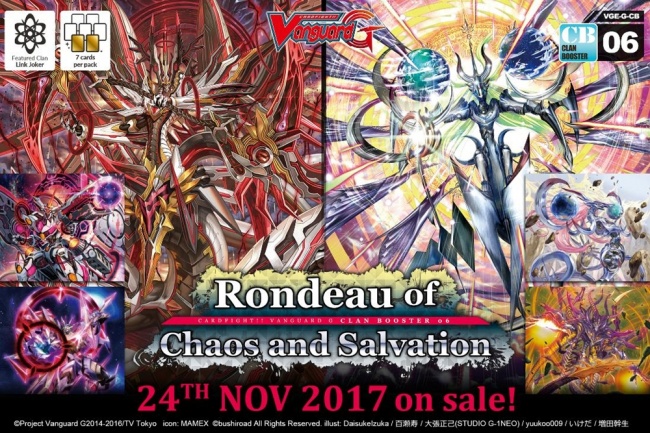 The Link Joker clan also gets a boost in
Clan Booster 6: Rondeau of Chaos and Salvation.
The booster set contains 45 types of cards (41 new and 4 reissues: Lady Gunner of the Neutron Star, Dark Metal Chameleon, Star-vader, Colony Maker, Star-vader, Paradigm Shift Dragon), with the following rarities: GR: 2, RRR: 6, RR: 8, R: 13, and C: 16. In addition, SP: 8 Parallel and Super GR: 2 Parallel, and 4 Special Reissue cards will be available. Cards will be released in 7-card packs, and each will contain 2 R or higher rarity cards. A Messiah deck can be constructed with cards from the booster, as well as a Star-vader deck. The cards also strengthen Glendios and Deletor decks.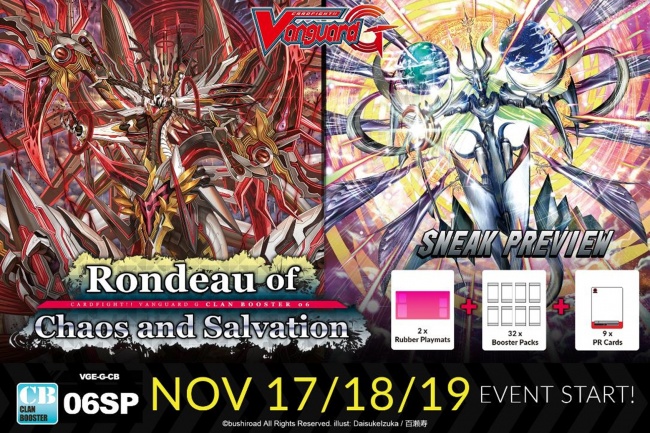 To support the launch, Bushiroad is offering a
Sneak Preview Kit
for stores that will host events during the weekend of November 17 -19. Each
Sneak Preview Kit
comes with 39 boosters, 9 promo cards, and 2 premium rubber playmats. Each kit is designed to support 8 participants.
This set will follow the Dragon King's Awakening booster release in October (see " 'Dragon King's Awakening'").