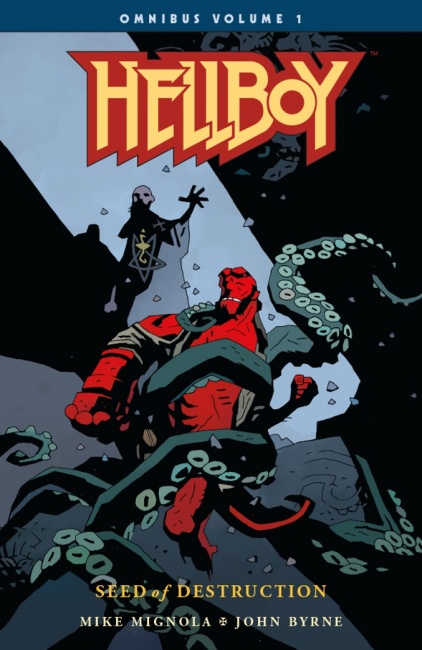 Dark Horse Books has announced a chronological collection of Mike Mignola's 20+ years of
Hellboy
adventures from the beginning, launching on May 23.
The Hellboy Omnibus Collection will include four volumes, including very Hellboy story written and illustrated by Mignola, as well as The Wild Hunt storyline, written by Mignola and drawn by Duncan Fegredo – which is the basis for the upcoming movie (see "Hollywood 'Hellboy' Reboot"). The collection will also include two volumes of Hellboy: The Complete Short Stories, which includes art by Richard Corben, Gabriel Ba, and Fabio Moon. Each of the volumes, six in total, will feature new covers by Mignola and colorist Dave Stewart.
Each of the trade paperbacks will have an MSRP of $24.99. Hellboy Omnibus Volume 1: Seeds of Destruction will release to comic stores on May 23, 2018, with bookstore release following on June 5.
Planned release schedule:
Hellboy Omnibus Volume 1: Seed of Destruction - May 23, 2018
This 368-page volume covers Hellboy's adventures from 1994 to 1997, reprinting Seed of Destruction, Wake the Devil, and "Wolves of St August," "The Chained Coffin," and "Almost Colossus," from The Chained Coffin and The Right Hand of Doom.
Hellboy: The Complete Short Stories Vol. 1 - Summer 2018
This 368-page volume covers Hellboy's adventures from 1947 to 1961, reprinting stories from The Chained Coffin, The Right Hand of Doom, The Bride of Hell, The Crooked Man, The Troll Witch, and The Midnight Circus.
Hellboy Omnibus Volume 2: Strange Places - Summer 2018
This 416-page volume covers Hellboy's adventures from 1998 to 2005, reprinting Conqueror Worm, Strange Places, Into the Silent Sea, and "The Right Hand of Doom," "Box Full of Evil," and "Being Human" from The Right Hand of Doom and B.P.R.D. Being Human.
Hellboy Omnibus Volume 3: The Wild Hunt - Fall 2018
The basis for the upcoming Hellboy feature film! This 512-page volume, reprints Darkness Calls, The Wild Hunt, and The Storm and the Fury, and the short story "The Mole."
Hellboy: The Complete Short Stories Vol. 2 - Fall 2018
Featuring "The Hydra and the Lion," "The Troll Witch," "The Baba Yaga," "The Sleeping and the Dead," "Heads," "Goodbye Mister Tod," "The Vârcolac," "The Vampire of Prague," "The Bride of Hell," "The Whittier Legacy," "Buster Oakley Gets His Wish," "They That Go Down to the Sea in Ships," "A Christmas Underground", "Dr. Carp's Experiment," "The Ghoul," "In the Chapel of Moloch," and "Makoma."
Hellboy Omnibus Volume 4: Hellboy in Hell - Winter 2019
Hellboy in Hell, The Exorcist of Vorsk, The Magician and the Snake