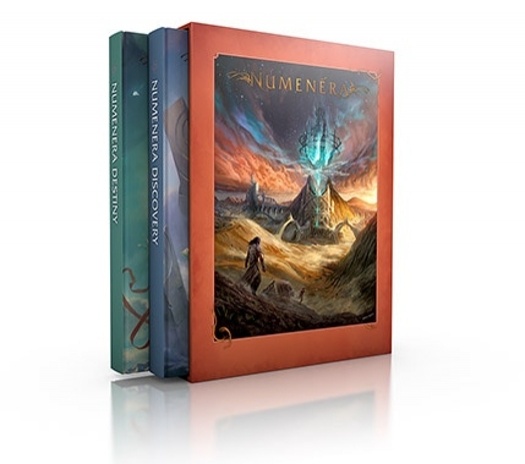 The new presentation of Monte Cook Games' science fantasy role playing game
Numenera
will release next summer, and the company has revealed more details about the upcoming books.
Monte Cook Games revealed its plans to produce a new two-volume version of the game at Gen Con (see "Life in the Ninth World Evolves"). The complete game will be presented in the two 416-page books, called Numenera Discovery and Numenera Destiny. The two books will be available separately with an MSRP of $60.00, or combined in a deluxe slipcase version at MSRP $120.00.
A new supporting book has also been announced. Building Tomorrow picks up where Numenera Destiny leaves off, providing more information about building installations and items, as well as new allies and a complete sample community. This 160-page hardcover book will be MSRP $45.00.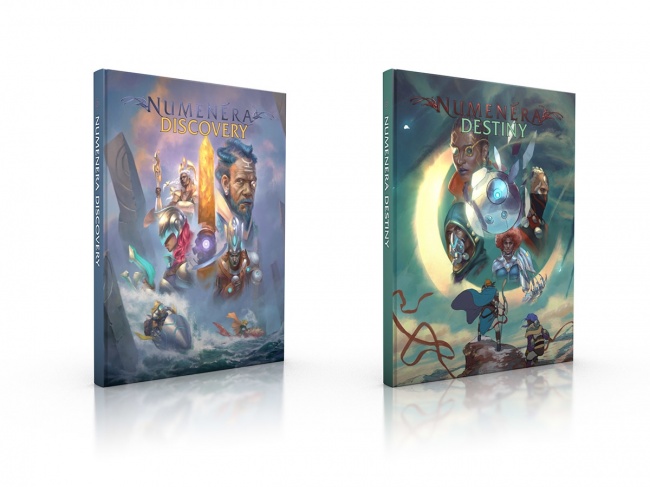 Like the original version of the game in 2012 (see "
Monte Cook's New RPG at Over $300K
"), Monte Cook Games is funding the production of the new
Numenera
through a Kickstarter campaign. Still in its first day, the campaign has attracted $197,438 in pledged support from 1,213 backers (an average of $162.80 per backer). A retailer-exclusive package is included in the campaign. The package asks for a small down payment, and offers retailers the ability to order any quantity of individual books and slipcase versions once production is complete. Participating stores will also receive a free copy of the Kickstarter exclusive supplement
The Trilling Shard
for each slipcase set ordered and a free
Numenera
POP kit.
Backer fulfillment is planned for next June, with release into the trade to follow.
(See several new images in the gallery below!)