Konami Digital Entertainment plans to begin 2018 with a new 100-card
Yu-Gi-Oh!
booster set called
Extreme Force
, releasing on February 2.
The new expansion will tie in with a number of themes and strategies from other recent releases, including new Noble Knights, Link Monsters, Special Summons, Mythical Beasts, and Pendulum Monsters, as well as new Cyberse monsters to expand the options introduced in the upcoming Circuit Break expansion (see "'Circuit Break' Booster Set Joins 'Yu-Gi-Oh! TCG'"). It will also tie in to the on-going animated series Yu-Gi-Oh! VRAINS by presenting Akira Zaizen's deck full of extra-dimensional terrors, Altergeists, and Rokket monsters.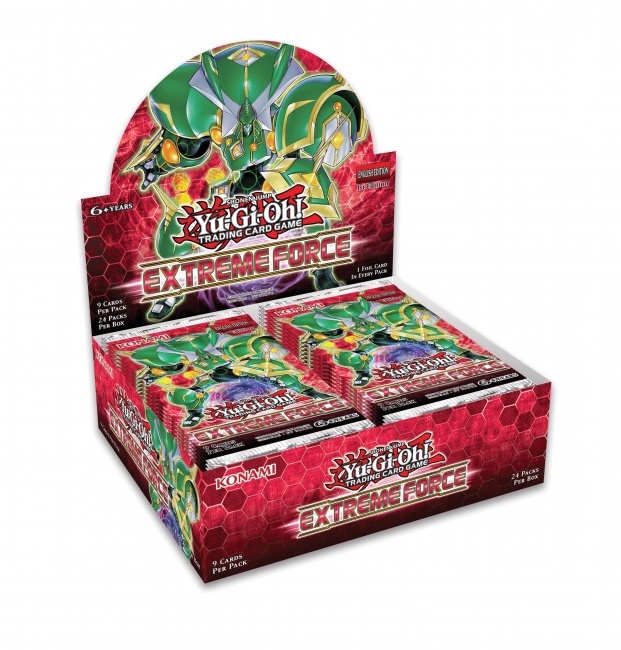 Extreme Force
will include a total of 48 common, 20 Rare, 14 Super Rare, 10 Ultra Rare, and 8 Secret Rare cards. The expansion will be packaged in 9-card booster packs, which will be sold in 24-pack displays.
Yu-Gi-Oh! continues to be a strong contender in the market, holding on to the number three slot in ICv2's spring sales chart (see "Top Collectible Games--Spring 2017"). The company is pushing Circuit Break through the end of this year, with a Circuit Break Special Edition boxed set releasing December 8 (see "'Yu-Gi-Oh! TCG Circuit Break Special Edition'")