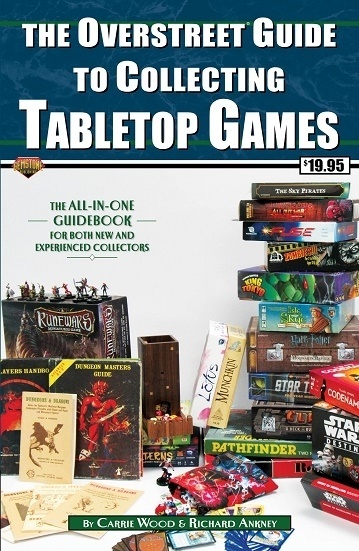 Gemstone Publishing will release
The Overstreet Guide to Collecting Tabletop Games
in June 2018.
The book, part of the company's "How To" line, is written by Carrie Wood (The Overstreet Guide to Collecting Video Games) and Game Trade Media's Richard Ankey. The book will cover board games, card games, role playing games and more. The guide will also include interviews with game industry professionals including Peter Adkison (founder and first CEO of Wizards of the Coast as well as current owner of Gen Con) as well as long-time game collectors, providing readers with insight and historical context for what has led to some current industry trends. There will also be coverage of how crowdfunding campaigns have changed and expanded the hobby business.
The 224-page, full color, paperback book has an MSRP of $19.95.
Gemstone Publishing, a division of Geppi's Entertainment Publishing & Auctions, is best known for publishing The Overstreet Comic Book Price Guide. The company was formed by Stephen A. Geppi, Diamond Comic Distributors President and Chief Executive Officer.