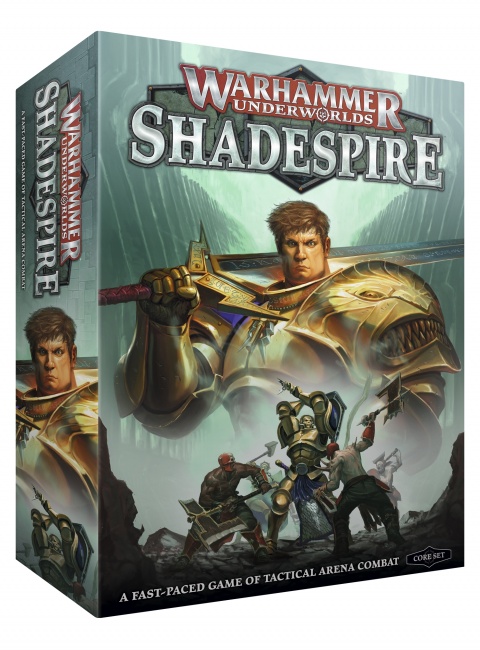 The cursed ruins of the damned city of Shadespire form the backdrop for Games Workshop's new arena combat board game
Warhammer Underworlds: Shadespire
, which releases on October 21.
Since early this year, Games Workshop has been teasing details about Warhammer Underworlds: Shadespire (see "'Shadow War: Armageddon,' 'Thunder & Blood,' 'Kharadon Overlords,' More"). Now, less than a month before its release, the company has revealed many more.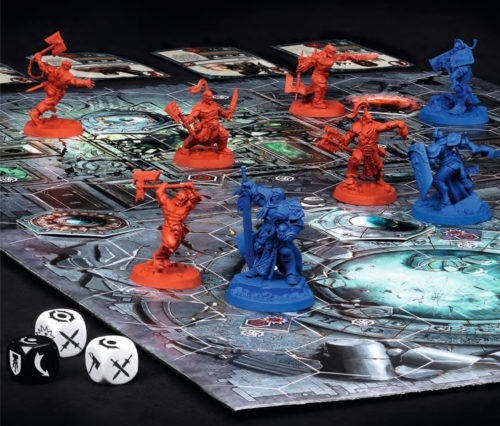 In the game, small bands of characters taken from the
Age of Sigmar
setting face each other in vicious battles to the death. Each player commands a team, tactically maneuvering their warriors and using their special abilities to accomplish objectives and destroy their enemies, all in pursuit of Glory. At the end of the game, the most glorious team wins the game.
Battles are fought on the double-sided gameboards using highly detailed Citadel miniatures specially designed for this set. The models are molded in colored plastic with "push-fit" connections so they can be assembled quickly and players can start playing without having to paint the models. Attacks are resolved using the game's custom dice, while a deck building style mechanic is used to improve the equipment and abilities of the warriors.

The
Shadespire Core Set
comes with two teams: 3 Stormcast Eternals and 5 Khorne Bloodreavers, 2 double-sided game boards, 8 fighter cards, 60 power cards, 36 objective cards, 8 custom dice, 126 tokens, a quick-start guide, a rulebook, and a guide for assembling the miniatures. The material in the
Core Set
can be used for two-player games, or two sets can be combined to allow up to four to play together.
At least two expansions are planned, one featuring Orks and one with undead fighters, adding additional playing options. GW is supporting the release with a dedicated website that will host tutorials, painting and modeling guides, and gaming options.