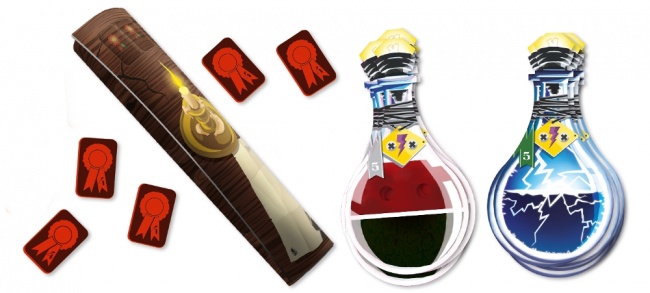 CMON has shared details for its upcoming
Potion Explosion Game Night Kit
, which includes exclusive prizes and materials for store owners to promote the popular puzzle/ set collection game. The kit will release in Q4.
The self-contained event kit includes enough prize support for two times the standard game players (2 – 4). The professors of Horribilorum Sorcery Academy now have a new potion recipe that catches lightning in a bottle – the Fulminating Serum. The kit contains 10 sets of the Fulminating Serum (8 per set), as well as 3 sets of plastic Skill tokens (6 per set), 3 player mats, 2 promotional posters, a sticker and a welcome letter. Promotional assets are also available to download on the company's website.
CMON launched CMON Play last spring (see "CMON Unveils Brick and Mortar Retail Program"), a new program for retailers that offers Game Night Kits, Demo Copies, Pre-Release Kits, and access to Kickstarter Retail Pledges. Retailers earn points for running a Game Night Event, which may be redeemed for products at a later date.
CMON recently released The Fifth Ingredient expansion for Potion Explosion (see "'Richard the Lionheart,' 'Meeple War,' 'Potion Explosion: The Fifth Ingredient,' More").