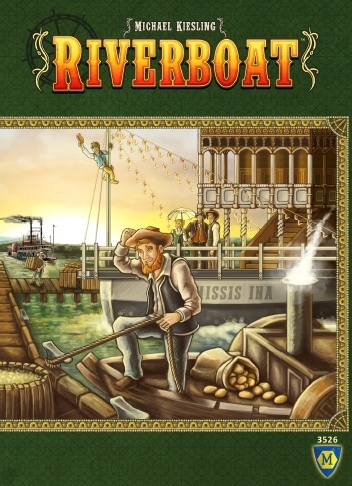 Mayfair Games will release the new Michael Kiesling game
Riverboat
and the
Agricola: Artifex Deck
in late November.
Kiesling's (Tikal, Vikings, Torres) new worker placement / set collection game Riverboat is set in the Upper Midwest in early 19th Century. Players are farmers with holdings along the Upper Mississippi River, who are trying to expand their opportunities with the technological advances in riverboat technology. Players can plant a variety of crops, claim contracts down the river, and even hire agents in New Orleans to sell goods. Players use their workers, curry favor with the harbor master, and grab opportunities as they come up; all while keeping an eye on the competition.
The box contains 2 game boards, 4 player mats, 110 crop tiles (turnip, wheat, corn, potato, pumpkin), 45 riverboats , 5 phase tiles, 8 score markers, 8 barns, 8 wells, 24 coins, 1 start player marker, 1 rulebook, cards: 40 cultivation cards 17 opportunity cards 3 crop distribution cards, and wooden components: 56 workers 28 surveyors 4 harbor masters. The game is for 2 – 4 players, ages 10 and up, and plays in 90+ minutes. MSRP is $70.00.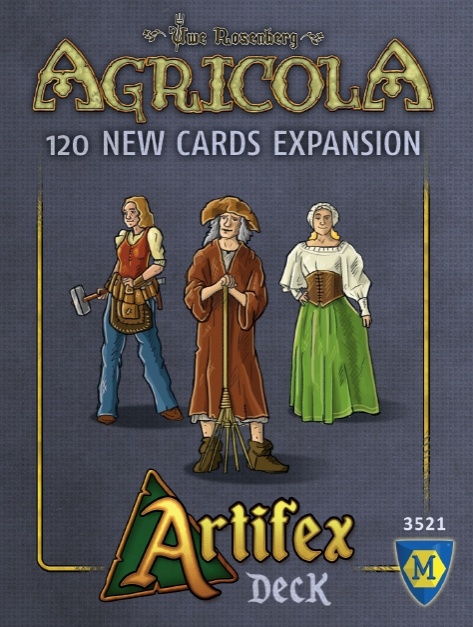 The
Agricola: Artifex Deck
is an expansion for Uwe Rosenberg's perennial hit
Agricola.
The deck contains 12 occupation and minor improvement cards to be used with the revised edition of
Agricola
. They can be added to a game on their own, or combined with other decks. As an expansion, it requires the base game to play. The deck includes 60 minor improvement cards and 60 occupation cards. MSRP is $15.00.
Mayfair recently released a new expansion for Oh My Goods! (see "Stop the War in 'Oh My Goods!'").