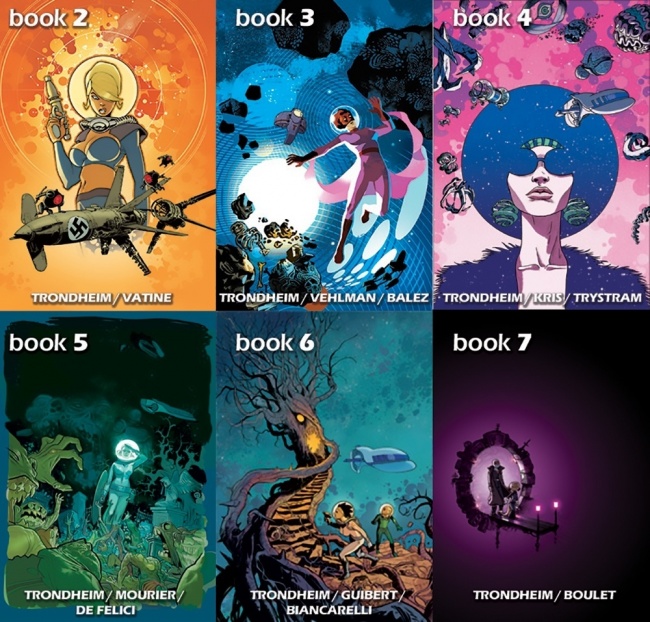 Lewis Trondheim and Olivier Vatine's space opera BD
Infinity 8
is coming to the U.S. courtesy of Lion Forge. Originally published in France,
Infinity 8
consists of eight three-issue arcs written by Trondheim in partnership with various co-writers and artists. The high concept science fiction series is set to make its U.S. debut in March.
The total of 24 issues break down into the following arcs:
Vol. 1 Love and Mummies by Trondheim, Zep, and Dominique Bertail
Vol. 2 Back to the Fuhrer by Trondheim and Olivier Vatine
Vol. 3 The Gospel According to Emma by Trondheim, Fabian Vehlman, and Olivier Balez
Vol. 4 Symbolic Guerrilla by Trondheim, Kris, and Martin Trystram
Vol. 5 Apocalypse Day by Trondheim, Davy Mourier, and Lorenzo De Felici
Vol. 6 TBA by Trondheim, Guibert, and Biancarelli
Vol. 7 TBA by Trondheim and Boulet
Vol. 8 TBA by Trondheim and Killoffer
Trondheim is most familiar to American audiences as the creator of the sword-and sorcery parody Dungeon. He also recently co-authored and illustrated Poppies in Iraq with Brigitte Findalky (see "Drawn & Quarterly to Publish Guy Delisle's 'Hostage'").
Click on the Gallery for preview images.