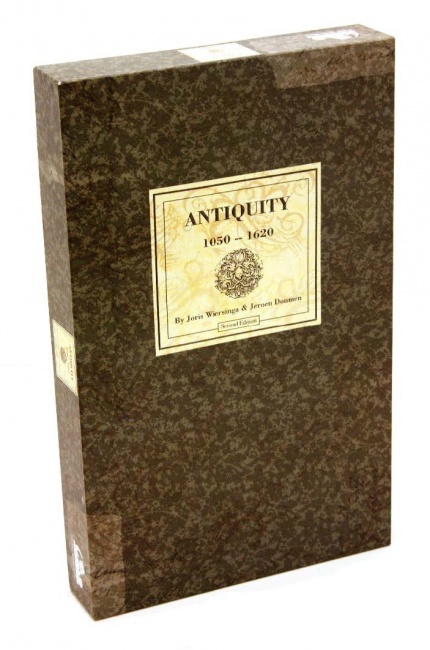 Passport Game Studios will release a new version of Dutch publisher Splotter Spellen's classic civilization building game
Antiquity
in December.
Designed by Jeroen Doumen and Joris Wiersinga (
Food Chain Magnate, Indonesia
),
Antiquity
was originally released in 2004. The game has players choose their own victory conditions based on the patron saint they choose (trade, conquest, city building, population growth). Starting out in an environment loosely based on Middle Ages Italy, players advance their economies and grow their cities, while also being cognizant of how expansion depletes resources around their holdings. The game continues until there is no more land left to farm.
For the new edition, the box size has been changed to the standard Splotter box, only 50% deeper to hold all the content. Wooden cubes have been replaced with wooden houses, meeples, and other thematic pieces. Cardboard pollution markers were exchanged for transparent plastic chits. Goods tokens have been color coded to make distinction easier.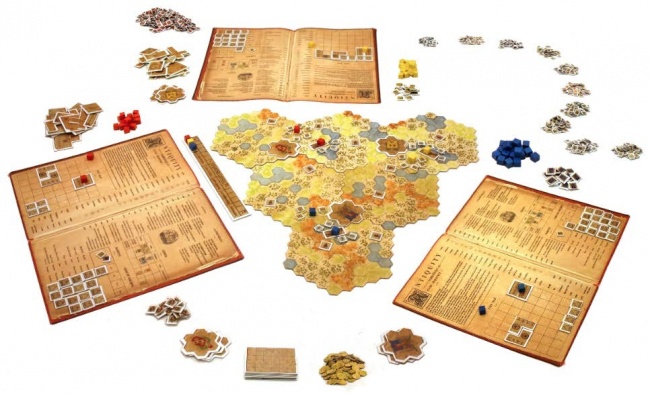 The box contains wooden inns & worker meeples, 48 goods in 10 types, 4 sets of buildings, 4 player aids, 12 small city maps, 1 famine board & marker, 16 map tiles, 16 exploration counters, hexagonal grass markers, and plastic pollution counters. The game is for 2 – 4 players, ages 14 and up, and plays in 120 – 180 minutes. The game is net priced into distribution. Like other Splotter releases (
Food Chain Magnate, Indonesia, The Great Zimbabwe
) price is estimated to be between $100.00 and $130.00.