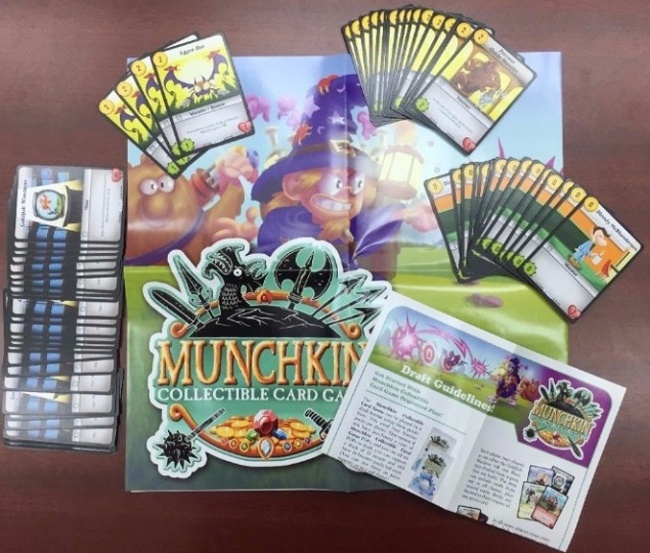 Steve Jackson Games has announced the first two organized play events for its upcoming
Munchkin Collectible Card Game
. The company will sponsor a "Release Event" during the weekend of March 2, followed by the "Day of Wreckoning" event on April 6.
The Release Event will be held during the weekend of March 2 - 4. Stores that sign up to participate in the event will be listed on the Munchkin CCG website and on Steve Jackson's social media feeds, and will also receive a free poster to promote the event.
Stores that also pre-order at least one case of boosters will receive a free Munchkin Collectible Card Game Organized Play Kit which includes 32 copies of a neutral Hero card, 16 copies each of two different prize cards, 4 copies of a unique promotional item, a poster, and suggestions for how to run an event. Kits can also be purchased by qualified retailers direct from Steve Jackson.
About a month after the game hits the streets, the second event, called the Day of Wreckoning will be held, during the weekend of April 6 - 8. Steve Jackson is offering similar support for stores that choose to join in. This event is intended to include in-store tournaments, and participating stores can decide whether to run them as constructed-deck or draft-style events.
The Munchkin Collectible Card Game was revealed at Gen Con earlier this year (see "'Munchkin CCG' Unveiled at Gen Con"). It is scheduled to release in February.