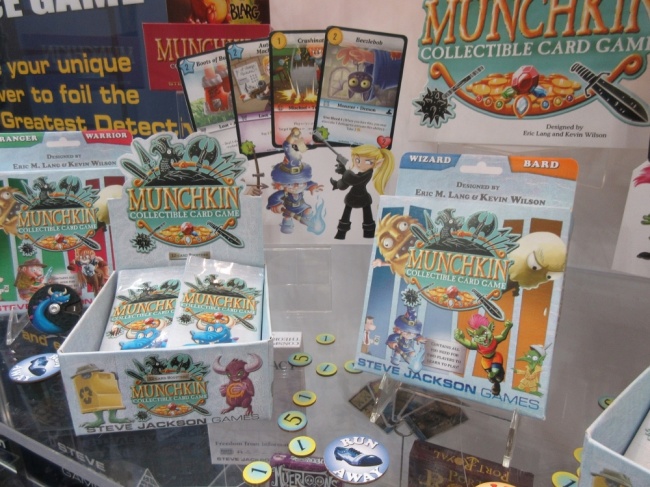 At Gen Con, Steve Jackson Games was showing off the first few releases for the highly-anticipated
Munchkin Collectible Card Game
, and shared release details with ICv2.
Designed by Eric M. Lang and Kevin Wilson, the game will launch in February 2018, with three two-deck
Starter Sets
(
Wizard / Bard, Ranger/ Warrior,
and
Cleric /Thief
) and the
Munchkin Collectible Card Game Booster Packs.
The
Starter Sets
each contain two different Hero Decks, two level counters, 40 tokens, one die, two Run Away markers and a
Booster Pack.
The set includes everything two players need to fight, right out of the box. MSRP is $24.95.
The
Munchkin Collectible Card Game Booster Packs
each include 12 random cards, including at least one rare or better card, so players can build unique decks to unleash on opponents. Each
Booster Pack
includes 12 cards, and each
Booster Display
contains 24 packs. MSRP is $3.95 a pack.
The cards feature art by John Kovalic, Mike Luckas, Katie Cook, Lar DeSouza, Ian McGinty, Tom Siddell, and Shane White.
The game is for two players, ages 13 and up, and plays in 60+ minutes.
SJG will support the launch with an organized play kit for Friendly Local Game Stores to host drafting events. The OP kit will be packed into boxes and will include three special art OP cards in quantities of 16, 16, and 4, plus 32 copies of a special hero card created for draft.
Two new
Boosters
will be released in 2018:
The Desolation of Blarg
in May, and
Fashion Furious
in August. Each
Booster Set
adds over 100 new cards to the game.
The game was announced in 2016 (see "
'Munchkin CCG'
"). SJG showed off the first cards at the GAMA Trade Show in March (see "
GAMA Trade Show 2017 in Pictures
").
See multiple game images in the Gallery below!