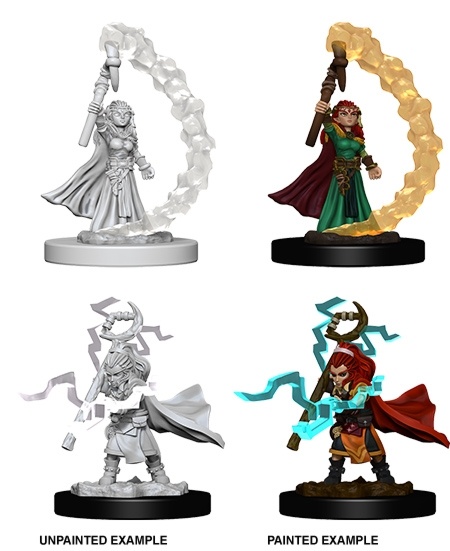 WizKids continues to expand its lines of unpainted plastic miniatures with 10 more
Pathfinder Battles Deep Cuts
and 11 new
WizKids Deep Cuts
kits scheduled to release in May.
The new models, which come pre-assembled and pre-primed, feature deeper detailing for simplified painting. The models are packaged in clear plastic packaging to allow customers to easily view them.
The Pathfinder Battles Deep Cuts line features a variety of heroes and monsters. Each set is MSRP $4.99, and includes two versions of an adventurer, a pair of identical monsters, or a single mounted figure:
Gnome Female Druid
Gnome Female Sorcerer
Gnome Male Bard
Gnome Male Druid
Knight on Horse
Medium Air Elemental
Medium Earth Elemental
Medium Fire Elemental
Medium Water Elemental
Skeleton Knight on Horse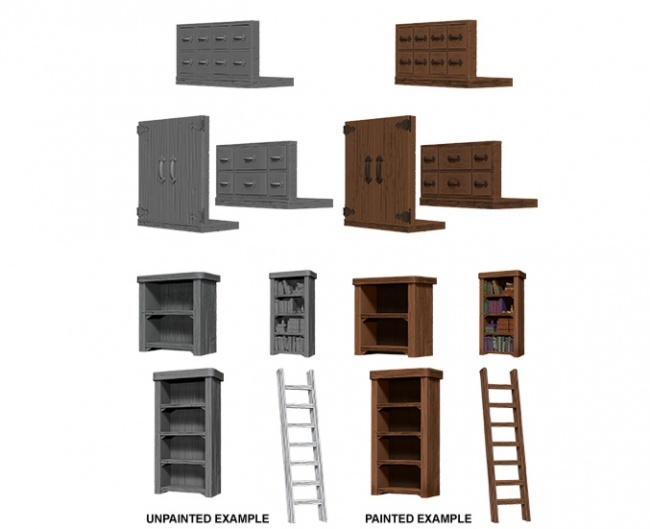 The new
WizKids Deep Cuts
kits include a variety of furnishings and other scenery pieces suitable for any fantasy setting:
The Archivist Library set includes 2 bookcases, 6 empty shelves, 2 partial shelves, 3 full shelves, 3 drawers, 2 cabinet doors, 1 bookcase ladder, and 2 short bookcases. MSRP is $24.99.
The other sets are all MSRP $4.99 each:
Barrel & Pile of Barrels, including a single barrel, a pile of barrels, and 4 barrel caps
Desk & Chair, with a single desk and a chair
Doors, a pair of identical closed dungeon-style doors
Magic Dias, composed of three pieces
Mirror & Bird on Stand, with standing mirror and bird perch
Navigators Pack, including scroll pile, map, sextant, telescope, and spyglass
Small Round Tables, featuring a trio of 3-legged round tables
Witches Den, including a spellbook, lectern, cauldron, and basin
Wizards Room, bulging with 3 sets of books, 2 bookends, a skull candle holder, jars and bottles, and a crystal ball.
Workbench & Tools, with 1 workbench, pen & quill, candle, mortar & pestle, hourglass, scale, and tool pouch
Check out the gallery below for pictures of the new miniatures.
WizKids recently released a batch of models for the growing line (see "'Deep Cuts' Unpainted Line Expands").