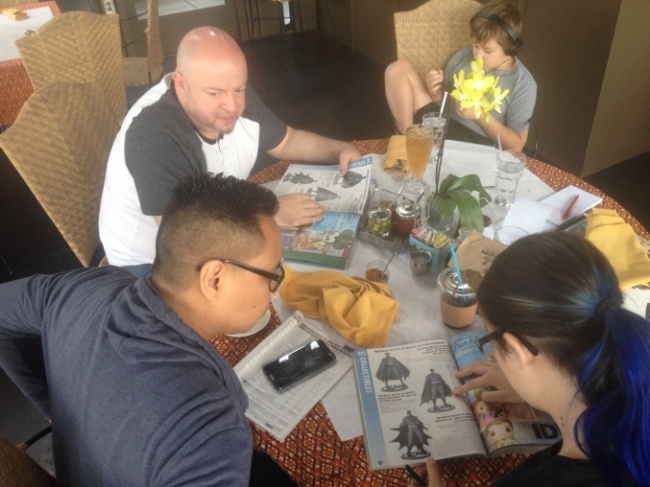 You've got your own way of ordering. But there's always a value in seeing how the other guys do it.
Collector's Paradise is almost shocking in its transparency. The mini-chain of two stores (in Winnetka and Pasadena, CA) has a pair of standing offers it makes to any publisher: You can send a rep to one of their stores to be an employee for a day, and you can sit in on their monthly ordering meetings.
"Every Monday before orders are due, I have a meeting with my two store managers," says Collector's Paradise owner Ed Greenberg. "In this meeting, we literally decide what titles we order, and how much. We also decides what were doing with merchandise—Buy this T-shirt, don't buy this T-shirt."
The store managers are Nicholas Ignacio in Winnetka, and Alli Alleman in Pasadena. There are 28 miles between the stores, but also some worlds of difference: Winnetka is the more established store, Pasadena newer. Winnetka skews a little more to a Marvel-and-DC clientele, Pasadena is a touch more art-school.
Perhaps shockingly, only two publishers have taken Greenberg up on his offer to sell for a day, and to sit in on their meeting: Valiant Entertainment and BOOM! Studios. Perhaps not shockingly (memo to everyone else out there!) Valiant and BOOM! sell very well at Collector's Paradise.
In the wake of the quest for a copy of
Fu Jitsu
#1 (see "
The Direct Market Problem, and Some Solutions
"), Collector's Paradise extended the same sit-in offer to ICv2. Want to know how one chain placed its orders in November, 2017 for product shipping January, 2018? Well, here you go…
From the jump, it's important to note that Collector's Paradise is not going over every last line item in this meeting. Chances are, orders for
Green Arrow
#36 are the same as #35, barring any creative change or noticeable upward/downward trend. The meeting focuses largely on new #1s and graphic novels.
Also, Collector's Paradise relies heavily on its main tool, a point of sale system with a consumer-facing online order and subscription service. Collector's Paradise uses that number of subscriptions and orders as a highly important baseline in placing their order numbers. They will typically search for a comp, and in their parlance "clone" subscribers on to a new title. Customers are not obligated to buy any title that they are cloned on to. They can cancel online before the book arrives by deleting it from their online subscriptions, they can decline to buy when they pick up their books, or they can even buy it with a 7-day, 100% money back guarantee.
With this in mind, Collector's Paradise sets their numbers, with the ever-important Final Order Cutoff date still hanging out there for last-minute adjustments.
"I see how many subscriptions I have, and I add a few copies on top of that based on sales history for that title to get to my actual initial number," Greenberg says. "I do everything on the FOC, but I put in that initial number just to make sure I'm covered just in case I get sick or something on the FOC day."
Greenberg calls these initial numbers "placeholder" values.
"Up to 90% of them are changed on FOC," he says. "FOC has changed our business, and it's amazing progress. It allows us to punish publishers who are repeat offenders with poor shipping, and it allows us to reward growth three weeks out. It's the biggest positive in years."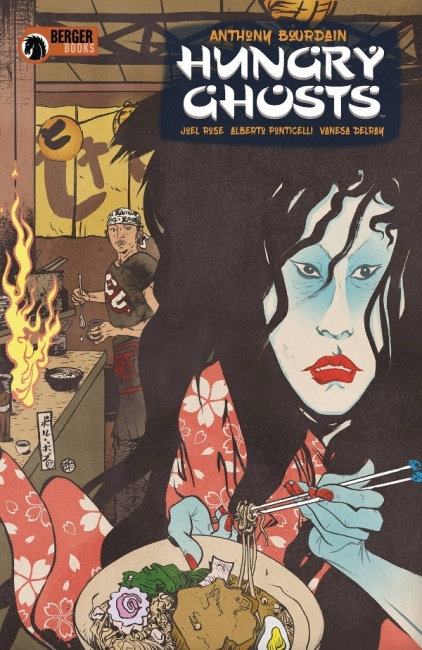 With that, the staff starts running through November's Diamond
Previews
catalog, with Dark Horse Comics'
Hungry Ghosts
, written by chef, author, and TV personality Anthony Bourdain, as the first topic of discussion.
"It's a gimmick," Greenberg says. "It's a food thing. I don't know who is gonna buy this, but… Bourdain is a promotion whore."
Nicholas Ignacio is jotting down most of the numbers to start with, and suggests 10 copies per store. Checking the
Previews
retail supplement, he notices that Dark Horse is making the title fully returnable with a minimum order of 10 copies. They quickly decide to move
Hungry Ghosts
to 20 copies per store.
Koshchei the Deathless
is next up, and Greenberg is stoked. "I'm Russian!" he exclaims! "I'm probably the only one in this restaurant who can pronounce this! It will sell Mignola numbers."
Ignacio mentions that Mike Mignola's
Rasputin: The Voice of the Dragon
is currently on shelves and selling well. They'll clone those numbers, about 25, and add 10 for shelf sales.
Koshchei
#1 lands with a 35-copy order.
Vinegar Teeth
#1 is a new Dark Horse horror-humor mash-up, and Alleman is a fan of the creative team of Damon Gentry and Troy Nixey. The book is returnable with an order of 10, and becomes an easy order of 10.
It's agreed that
The Paybacks
will sell at
Buzzkill
numbers, a Dark Horse title with the same creative team. "The new
Buzzkill
is selling like crazy," Alleman adds.
Moving into DC Comics, the DC New Age of Heroes titles—
Sideways
,
The Terrifics
, and so on—will clone at DC
Metal
numbers, a high perch. "We are betting the house on DC right now," Greenberg says. "They're leading with editorial."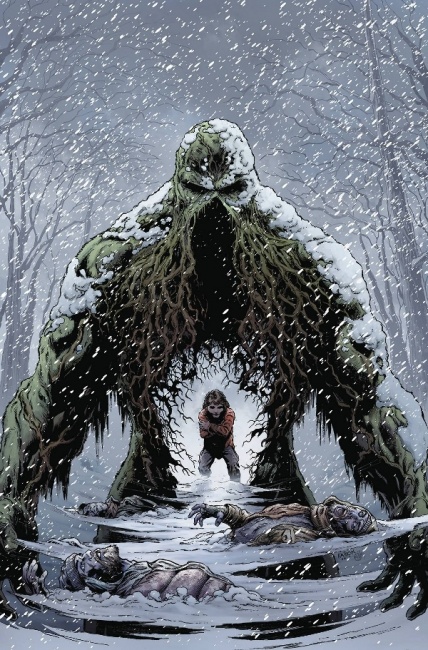 Ignacio suggests they clone DC's
Swamp Thing Winter Special
with a similar Tom King-written book. "This will definitely sell to all the people who like Tom King," he says.
It's agreed that
Doomsday Clock
is "going to be crazy." Orders for this at Collector's Paradise are higher than
Metal
.
Exit Stage Left: The Snagglepuss Chronicles
will clone at
Flintstones
numbers. Alleman is a little more bullish. "People have been talking about this for a year," she says.
Greenberg is not sold on much of anything in DC Collectibles merchandise. "Six months later, it's available at 70% off," he says. "There's no reason unless a customer orders something, or there's the occasional thing we need right away."
Still, the group has a pretty spirited discussion over
DC Artists Alley
, a new line of vinyl figures. There's talk of getting some of the limited edition, 500-run black & white versions "just to have them," but when it's noted that b&w orders are keyed to "regular" colored orders, the idea is tanked.
At IDW Publishing,
Tangled
#1 is an order, with comps to similar Disney princess titles.
Walt Disney Showcase #1: Donald Duck
is a zero. "No one cares about classic Donald Duck," Greenberg muses, while the group notes that the newer
DuckTales
does sell well.
Stretch Armstrong
is "An absolute zero," Greenberg says. "It looks like a tie-in to a terrible movie."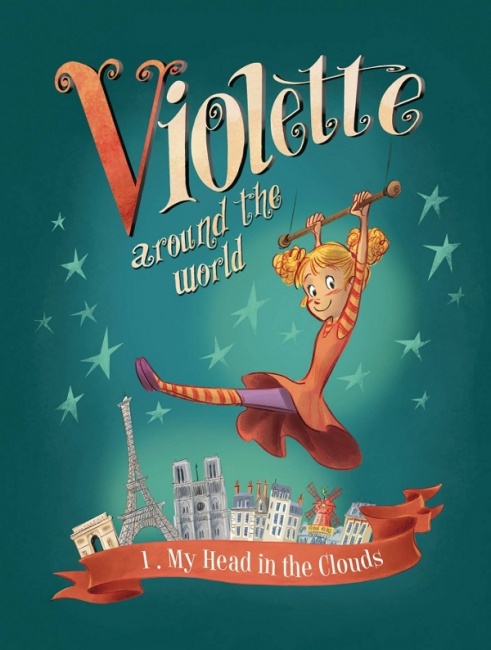 Violette
, a kid-focused 48-page hardcover with two follow-up books promised, sparks interest. "Good art, good art," Greenberg says, as they agree to order four copies per store. "All ages is becoming a bigger audience for us."
The group generally eschews IDW's Artist's Editions ("They take up too much space, and we pay $100 for a $150 item," Greenberg says. "What's the point?"), but there are special orders, so two
Frank Cho's Savage Wolverine
are ordered.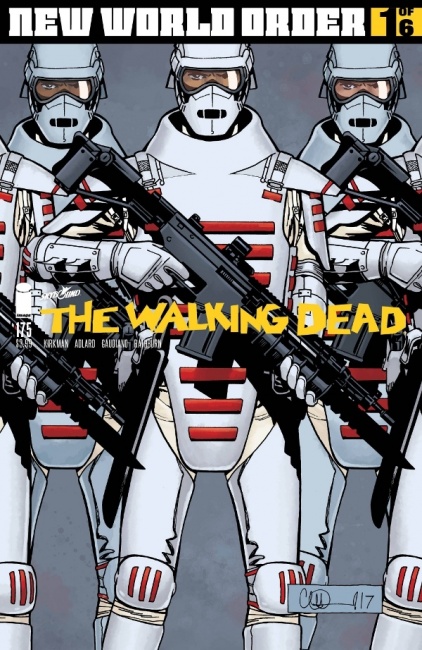 In the Image Comics section,
The Walking Dead
#175 is worth some extra copies with the start of the new "New World Order" storyline. Winnetka will move from 55 copies to 65; Pasadena from 40 to 50.
The Further Adventures of Nick Wilson
will get an order of 10. "Image has a thing. People think if they buy it, it might be the next big thing," Greenberg says. Collector's Paradise has little trouble selling 10 copies of any new Image #1, but frequently sees sales drop to one or even zero with #2.
Ice Cream Man
("Looks like scary stuff!") similarly gets a 10 order.
Crossing into Marvel, the
Marvel Gallery X-23 Wolverine PVC Diorama
figure generates interest. The size, quality, and $45 price tag make it an easy sell. They agree to order six to start, and Greenberg notes that the store sold 50 similar Deadpool figures at the peak of Deadpool-mania.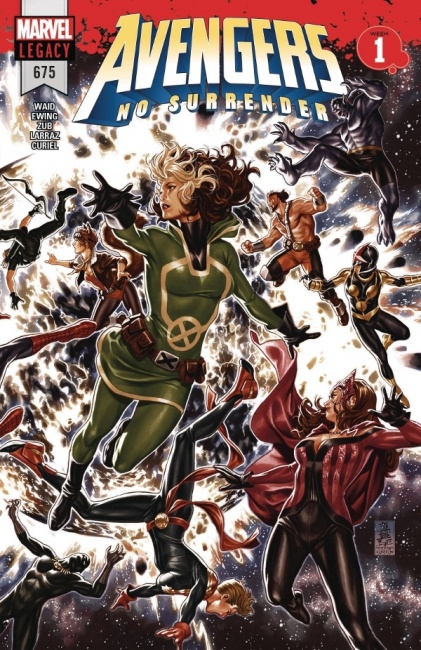 Avengers
#675 and the "No Surrender" event becomes a major topic of discussion. Sixteen weekly issues over four months is seen as a great opportunity to capitalize. "I think it's gonna be great," Greenberg says. "Lots more shelf copies. Lots of promotion. Really get behind it. If we get 20 extra customers on this, that's 20 copies times 16 issues, all in four months!"
The group pauses over
Jean Grey
#11, and compares to another Jean Grey title expected to be big. "We have to pay attention," Greenberg says. "Does this tie into
Phoenix: Resurrection
? If so, order more copies."
Rise of the Black Panther
will be cloned at
Black Panther
numbers ("With a little more for the shelf") while
Old Man Hawkeye
will match previous
Old Man Logan
("The art will be fantastic.").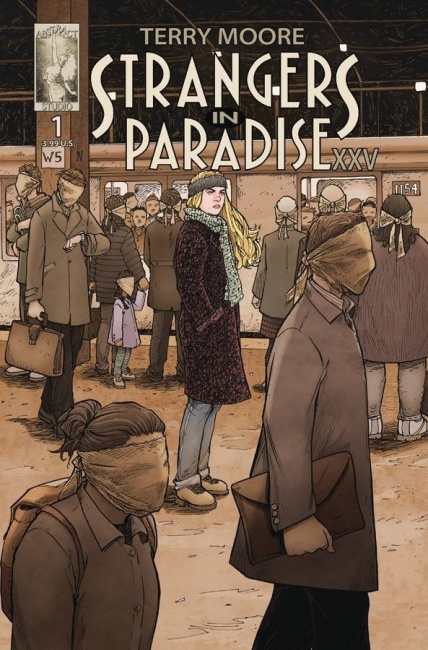 The group is hyped for
Strangers in Paradise XXV
, the 25th anniversary Strangers in Paradise series. "Go through all the old Terry Moore series:
Strangers in Paradise
,
Echo
,
Motor Girl
," Greenberg says. "Let's get all those people subscribed, let's get copies for the shelf. That's Terry Moore. We used to sell hundreds of copies of every issue."
In BOOM! Studios, the group likes the
early direct market release for Mech Cadet Yu
, but Ignacio grouses a tad that it should have been $10 for a 96-page collection, not $15. They resolve to see if there's any extra discount on the book, and come up with a number later.
BOOM!'s
Giant Days
Vol. 7 garners a lot of interest. "The trades are really selling. Lots of sales," Greenberg says. "Make sure when 7 hits, the other six are stocked. This is one of the best-selling books in the store."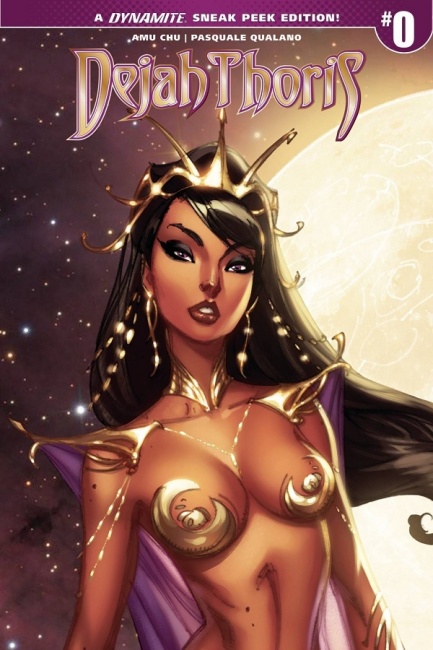 Dynamite Entertainment's
Dejah Thoris
#0 is a 25¢ intro issue, and you have to order 100 to get one J. Scott Campbell incentive cover. The group quickly decides the Campbell cover can easily be sold for $10-$15, and that mitigates any risk on 100 cheap copies. The 100 number is placed.
Lion Forge's
The Dream of the Butterfly
, a teen offering, catches eyes ("It looks like Miyazaki!") and a four-copies-per-store order is placed.
Proximity matters for Oni Press'
Sci-Fu
graphic novel. Creator Yehudi Mercado lives halfway between the Collector's Paradise stores. "We need to talk to Yehudi ASAP," Greenberg says. "Let's do a day around this. Let's make sure we're stocked on his other kids books with it."
After about three and a half hours at a Thai restaurant, the meeting is adjourned. Now you know how the sausage is made. And maybe even the chicken stir-fry.
The opinions expressed in this column are solely those of the writer, and do not necessarily reflect the views of the editorial staff of ICv2.com.