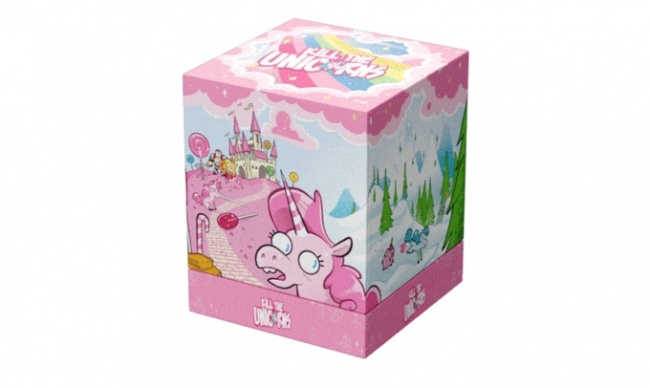 French game publisher Morning will release the off-beat card game
Kill the Unicorns
, in June.
Set in a fantasy kingdom overrun by flatulent unicorns, Kill the Unicorns invites players to help with the annual four-day unicorn hunt. The game combines blind bidding and set collection mechanics, with a healthy dose of "take that" play. In each round, players first place secret "schemes" on the unicorns in play, which influence who can capture them. Then they place hidden bids on the unicorns they hope to catch. The highest bidder (after the effects of the schemes) claims the unicorn and its points. Then unused bidding cards can be spent at the gnome-run black market to gain advantages.

The game comes with 145 cards and 20 tokens. The game was designed by Loic Chorvot, Alain Fondrille, and Cyril Besnard, and is illustrated by Levi Prewitt. It is intended for 3 to 6 players, and plays in under 45 minutes. MSRP is $20.00.
Morning is funding Kill the Unicorns through a Kickstarter campaign that has attracted $119,757 from 3,203 backers ($37.39 per backer average) with 14 days remaining. The campaign includes an option for retailer backers, who can receive the Kickstarter exclusive version of the game at the same time as other backers, expected in May. Retailers may also pre-order the retail version of the game, which will go into distribution about a month after Kickstarter backers receive their copies.