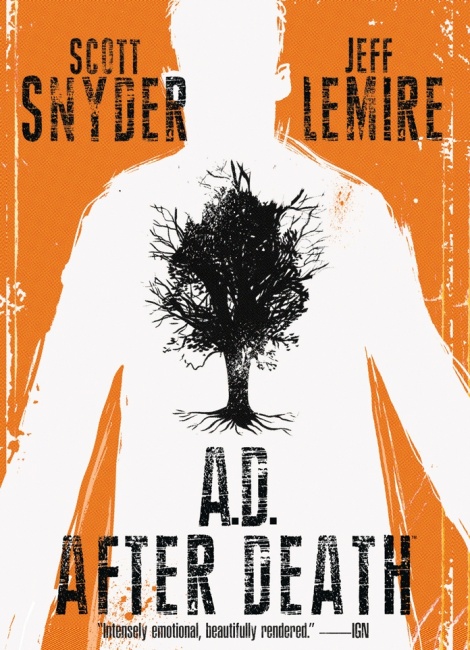 Barnes & Noble has assembled their best comics of 2017 list. Image Comics was well-represented on Ross Johnson's list, with nine comics among the top titles. DC and Marvel each had a handful of honorees, and relative newcomer Black Mask landed two entries.
The Barnes & Noble best comics of 2017:
A.D. After Death by Scott Snyder and Jeff Lemire (Image)
Batman Vol. 1: I Am Gotham by Tom King, David Finch, and Mikel Janin (DC)
The Dark Knight: Master Race by Frank Miller, Brian Azzarello, Andy Kubert, Klaus Janson, Brad Anderson, and Alex Sinclair (DC)
The Black Monday Murders Vol. 1 by Jonathan Hickman, Tomm Coker, Michael Garland, and Rus Wooton (Image)
Kim & Kim Vol. 1: This Glamorous, High-Flying Rock Star Life by Magdalene Visaggio, Matt Pizzolo, Katy Rex, Eva Cabrera, and Claudia Aguirre (Black Mask)
Snotgirl Vol. 1: Green Hair Don't Care by Bryan Lee O'Malley, Leslie Hung, Mickey Quinn, and Maré Odomo (Image)
Monstress Vol. 2: The Blood by Marjorie Liu and Sana Takeda (Image)
Wonder Woman: The Lies by Greg Rucka, Nicola Scott, Liam Sharp, and Romulo Fajardo Jr. (DC)
My Favorite Thing Is Monsters by Emil Ferris (Fantagraphics)
Overwatch: Anthology Vol. 1 by Matt Burns, Roberts Brooks, Andrew Robinson, Micky Neilson, and James Waugh (Dark Horse)
BLACK Vol. 1 by Kwanza Osajyefo, Jamal Igle, Robin Riggs, Tim Smith III, Derwin Roberson, and Khary Randolph (Black Mask)
Black Panther: World of Wakanda by Ta-Nehisi Coates, Roxane Gay, Yona Harvey, Alitha Martinez, and Afua Richardson (Marvel)
Champions Vol. 1: Change the World by Mark Waid and Humberto Ramos (Marvel)
Doom Patrol Vol. 1: Brick by Brick by Gerard Way, Nick Derington, and Tamra Bonvillain (DC)
Shade the Changing Girl Vol. 1: Earth Girl Made Easy by Cecil Castellucci, Marley Zarcone, Ande Parks, Ryan Kelly, and Kelly Fitzpatrick (DC)
Everyone's a Aliebn When Ur a Aliebn Too: A Book by Jomny Sun (HarperCollins)
Kill or Be Killed Vol. 1 by Ed Brubaker, Sean Phillips, and Elizabeth Breitweiser (Image)
Motor Crush Vol. 1 by Brenden Fletcher, Cameron Stewart, and Babs Tarr (Image)
Love is Love by Marc Andreyko, Sarah Gaydos, Jamie S. Rich, and others (IDW)
Hawkeye: Kate Bishop Vol. 1 by Kelly Thompson, Leonardo Romero, Michael Walsh, and Jordie Bellaire (Marvel)
Moonshine Vol. 1 by Brian Azzarello and Eduardo Risso (Image)
Bitch Planet Vol. 2: President Bitch by Kelly Sue DeConnick, Valentine De Landro, and Taki Soma (Image)
Glitterbomb Vol. 1: Red Carpet by Jim Zub, Djibril Morissette-Phan, K. Michael Russell, and Marshall Dillon (Image)
Imagine Wanting Only This by Kristen Radtke (Pantheon)
America Vol. 1: The Life and Times of America Chavez by Gabby Rivera, Joe Quinones, and Ramon Villalobos (Marvel)
Boundless by Jillian Tamaki (Drawn & Quarterly)
Check out Barnes & Noble's 2016 list: "Vulture, Barnes & Noble Release Best Graphic Novel Lists."
The Barnes & Noble list only has a few titles in common with Amazon's best graphic novels of 2017: Bitch Planet, My Favorite Thing Is Monsters, Love Is Love, and Everyone's a Aliebn When Ur a Aliebn Too (see "Amazon's Best Graphic Novels - 2017").