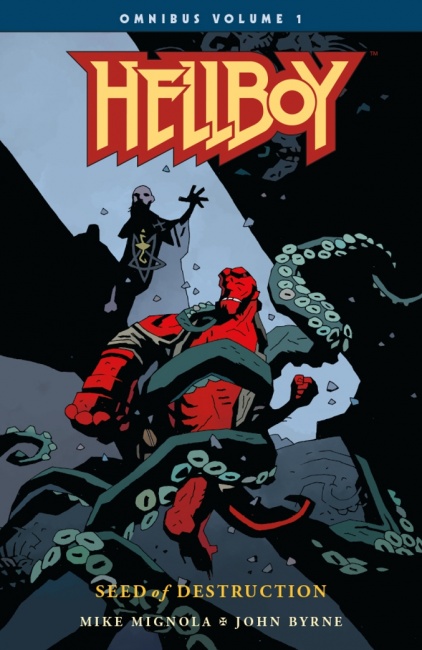 Mike Mignola's iconic comic book property
Hellboy
will be featured in a new board game from Mantic Games, thanks to a new licensing agreement with Dark Horse Comics. The game will be funded with a Kickstarter campaign in April.
The as-yet-unnamed Hellboy board game will be a co-operative game in which players take on the role of BPRD characters, including Hellboy himself, Abe Sapien, and others. The players must work together to explore locations inspired by the gothic style of Mignola's work and attempt to recover ancient artifacts and thwart evil-doers. The game will include pre-assembled plastic miniatures, like many other Mantic designs, with sculpts based on Mignola's distinctive illustrations.
"Mantic is not only a leader in the miniatures board game category, but also have a thorough understanding of Hellboy and BPRD storylines and how to integrate them into a game," said Dark Horse Comics' Chief Business Development Officer Nick McWhorter. "We're confident they can deliver a board game that fans of Hellboy and miniatures games alike can appreciate!"
Hellboy is celebrating its more than 20 year history with the first volume in a chronological collection starting in May (see "The Lore of Hellboy Collected"), and a new film version of the comic is slated to release in January 2019 (see "'Detective Pikachu' Gets Date, Goyer on 'Motu,' 'Shazam,' Patrick Stewart in Tarantino 'Star Trek'?"). Though the Hellboy characters have appeared in a role playing, miniatures, and card games, this will be their first appearance in a board game (Steve Jackson Games did announce plans to develop a Hellboy board game in 2015, but the project was never released: "'Hellboy' Board Game").