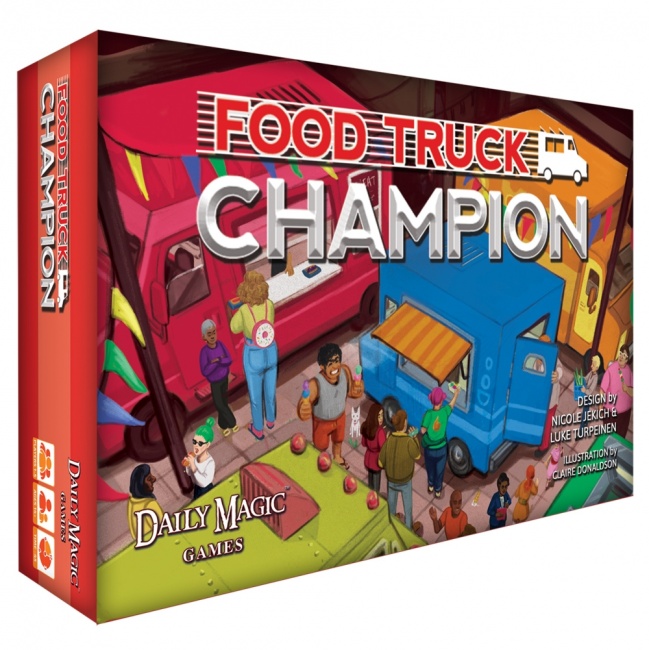 Daily Magic Games will release its new card game,
Food Truck Champion
, in February.
In Food Truck Champion, the players are the owner-operators of new food trucks, competing to become the most popular truck at the end of the day. The game is played with multi-function cards, which can be used as food truck staff to take certain actions, as order tickets that can be filled to earn popularity points, or as the ingredients needed to fill those orders. Players must consider which card effect to use as they pursue their strategies, and playing a card for actions triggers an opportunity for other players to follow suit. Bonus points can be earned by filling orders for a truck's "signature dishes" or by collecting sets of dishes that match a "flavor profile."
The game comes with 5 food truck boards, each with its own "wild" owner card, 101 game cards, 30 cardboard tokens, and an active player token shaped like a food truck. It was designed for 2 to 5 players, ages 8 and up, and takes about an hour. MSRP is $25.00.
Food Truck Champion
is the first design from the studio of WhiskyGinger, launched by designers Nicole Jekich and Luke Turpeinen, whose experience includes development of other Daily Magic designs. The game was funded through a Kickstarter last year that attracted $51,010 in pledged support from 1,687 backers (an average of $30.24 per backer).
Daily Magic has also announced plans to release an Egyptian-themed Euro-style game (see "'Sailing Toward Osiris'") and a sci-fi "4X" style game (see "Daily Magic Reveals 'Horizons' Details") this year.