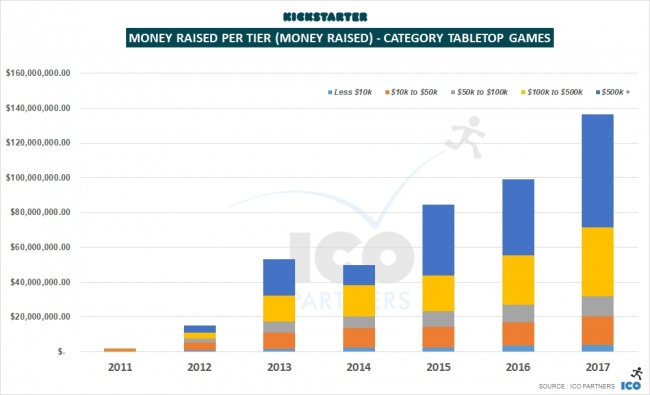 A new study of tabletop games projects on Kickstarter in 2017 by
ICO Partners
found positive signs of health in the rapidly growing category. Total money raised for tabletop game projects funded on the platform grew 36% last year, to $137 million (see "
Tabletop Games UP 36% on Kickstarter
"). With that kind of growth, there are questions about whether it's sustainable. The study by ICO Partners has some reassuring data.
First, ICO found that there was growth at all tiers, not just in the largest projects. While a new record was set last year for the largest tabletop game Kickstarter ever (Kingdom Death: Monster 1.5 drew over $12 million, see "Two of Three Tabletop Game Kickstarters Have No Trade Release"), there was growth across tiers, from the largest to the smallest projects.
There was also growth across all the largest currencies on the platform, indicating geographic diversity for the strength of the category. While projects in US dollars were up a lot, projects in the Euro, Pound Sterling, and Canadian Dollar were also all up in 2017.
Based on the data, it appears that the growth in Kickstarter-funded tabletop games has the potential to continue from a stable base, a positive sign for the games business.
Click Gallery below for full-size image of the ICO graph.