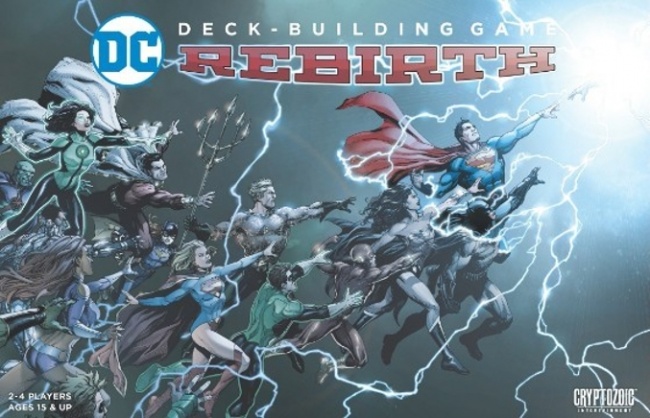 Ahead of New York Toy Fair, Cryptozoic Entertainment unveiled two new releases that introduce new dynamics for its long-running
DC Deck-Building Game
.
The latest expansion in the DC Deck-Building Game is based on DC Comics 2016 relaunch of the same name (see "DC Unveils 'Rebirth'"). The stand-alone Rebirth will introduce a new mechanic – Movement, using the eight Mighty Meeples wooden figures (including Batman, Superman, Wonder Woman, The Flash, and Aquaman) included in the box. There will also be two distinctive modes of play, which deal with how Villains are dealt with after being defeated. Normally, they would be added to the player's deck, but instead grant a one-time reward. In competitive mode – Villains give players Victory Points and then go under the Super Hero cards. More details will be available at a later date. MSRP and release date were not announced.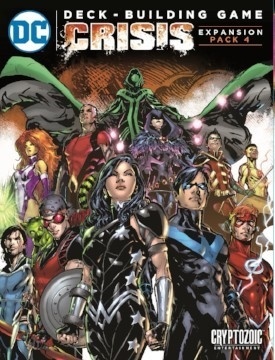 DC Deck-Building Game: Crisis Expansion Pack 4
will focus on the Teen Titans. The pack will also introduce the keyword "Unity" and Personal Crisis Cards – which only affect one character. There are six Super Heroes from the Titans included, original members who are now adults. MSRP and release date were not announced.
Cryptozoic also teased new licensed games based on the Rick and Morty animated series (see "Three New 'Rick and Morty' Games in 2018"). The company will also be previewing new original games The Arrival (see "Martin Wallace's 'The Arrival' Lands U.S. Release") and Wallet (see "The Mob Boss's Billfold Holds the Keys to Freedom").