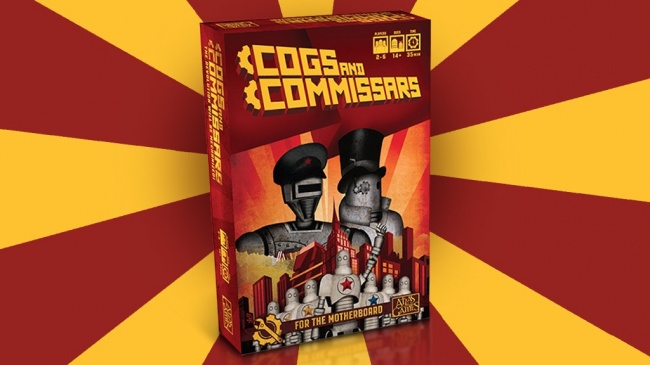 Soviet-style intrigue meets automation in
Cogs and Commissars
, coming from Atlas Games in October.
In
Cogs and Commissars
, the players are the leaders of robotic factions preparing to launch their own glorious revolution upon the world. Led by such luminaries as Artificial Stalintelligence and Simulenin, the factions use propaganda and their control of the means of production to recruit robots from the "gulag" to their cause, or to steal supporters from their rivals. If a player can collect at least 15 points worth of supporters, they can play the "Revolution" card to win the game.
The game allows players to design their own customized decks through a deck-drafting system to create their own strategies, or use the pre-built faction decks included in the box. Game play features a heavy dose of "take that" style mechanics.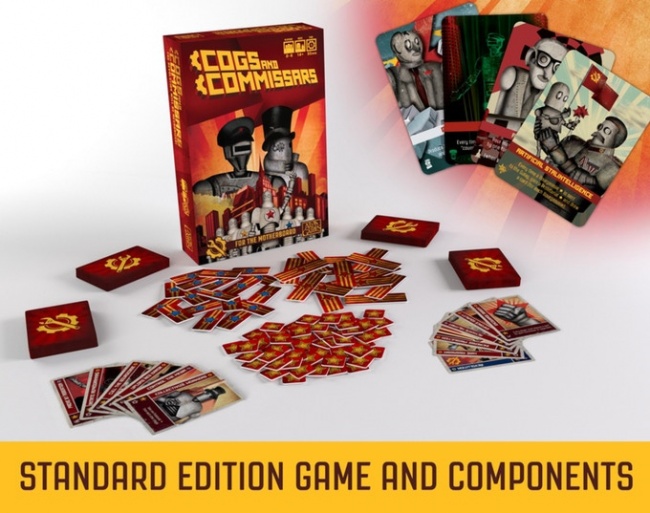 Cogs and Commissars
will include 128 cards and 56 citizen counters. The game is intended for 2 to 5 players, ages 14 and up, and plays in a little more than half an hour. MSRP is $24.95. It was created by freshman designer Matt Haga, and features artwork by Zoran Cardula.
Atlas Games is funding the production of
Cogs and Commissars
through a Kickstarter campaign that has attracted over $13,000 in pledged support from nearly 300 backers (an average of about $43.00 per backer) with 16 days remaining. Retailers are invited to participate in the campaign by pre-paying $55 against their order, which will ship at the same time as the Kickstarter fulfillment, expected to occur in October. This will be at least one month before the game's general release. A limited edition deluxe version with upgraded components will also be available only through the Kickstarter with an MSRP of $49.95. The deluxe version will be available to retailers that back the campaign.
Click on the gallery below for a preview of some of the cards in the game.
Last autumn, Atlas announced a deal to handle distribution of Fight in a Box' quirky
Squirrel or Die
card game (see "
Atlas Games Brings 'Squirrel or Die' to Trade
").