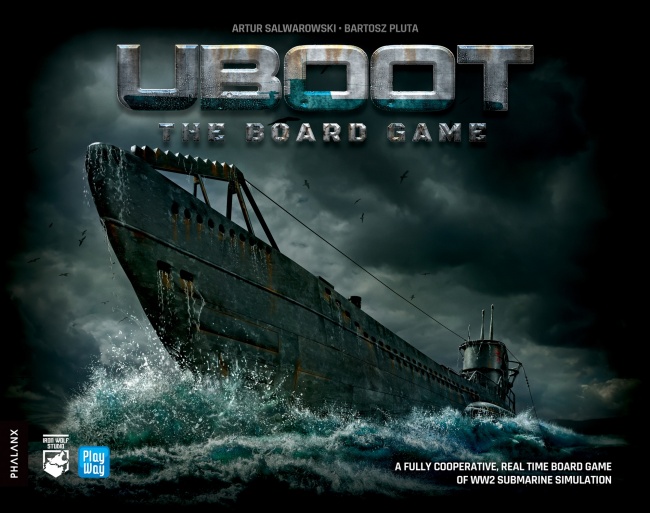 The "silent service" of the World War II German U-Boats is the inspiration for the app-driven real-time
UBOOT: The Board Game
, releasing in Q1 next year from Phalanx Games, with North American distribution by Ares Games.
UBOOT: The Board Game is a fully-cooperative game that recreates the action on board a German Type VIIC submarine. Each player takes on the role of one of the boat's chief officers: captain, first officer, navigator, or chief engineer. Players use the crewmen under their command in a worker-placement style on the game's 3D game board. The action is controlled through the game's companion app, which will be available for download on iOS, Android, and PC. The app handles much of the game's book-keeping, as well as representing the various equipment on-board the U-boat, including the periscope, ENIGMA machine, and hydrophone. The app also runs the AI, which controls the adversaries that the players will confront during their missions.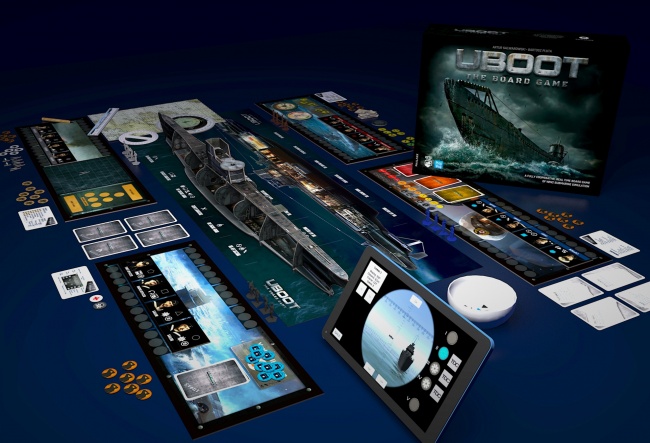 The game comes with a 90 cm long, 1/72 scale cardboard u-boat model, 16 plastic crewmen, 1 plastic 88mm deck gun, 1 plastic 20mm deck gun, 1 plastic conning tower model, 4 player boards, 4 watch tiles, 94 cards, 219 tokens, navigation maps patterned after historic
Kriegsmarine
charts, Allied vessel ID chart, cardboard ruler and protractor, a cloth bag, and a captain's log chart. The game is intended for 1 to 4 players, ages 14 and up, and takes at least an hour to play. MSRP is $100.00.
Phalanx is funding the production of UBOOT: The Board Game through a Kickstarter campaign that has attracted $782,653 in pledged support from 7,540 backers (an average of $103.80 per backer) with just under three days remaining. Backer fulfillment is scheduled to begin in December, with release into the trade to follow.
Ares Games has been handling the distribution of Phalanx titles in English outside of Europe, including North America, since the middle of last year (see "Ares Joins Forces with Phalanx for U.S. Distribution").