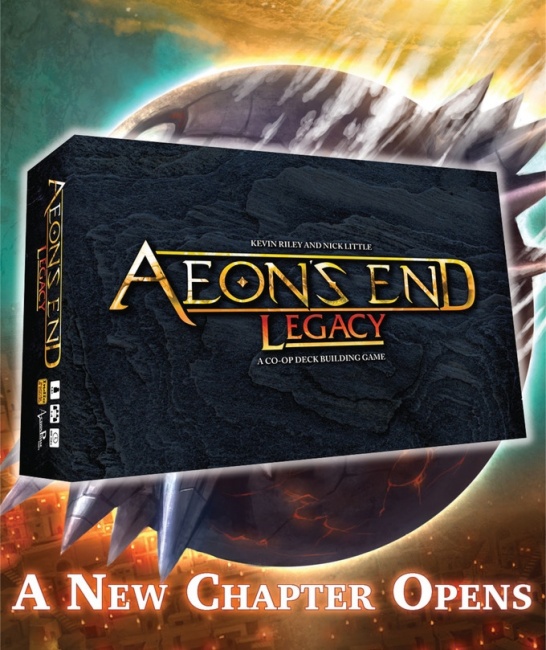 The cooperative fantasy deck building game
Aeon's End
will soon be available in a new, fully compatible stand-alone legacy-style game called
Aeon's End: Legacy
. Release by Action Phase Games and Indie Boards and Cards is set for October.
Aeon's End: Legacy uses the same game system as the 2016 Action Phase Games title Aeon's End, and features graphics and components that match that game's 2nd Edition (see "Cooperative Deck Building Game of Post-Apocalyptic Fantasy"). Like the original game, the players assume the role of "breach mages" who must work together to protect Gravehold, the last refuge of humanity in a world torn apart by magical forces. Each mage is represented by a mage board and their own deck of cards, which evolves during the game deck builder style.
Aeon's End: Legacy adds a legacy-style mechanic to the core elements of the game, with characters participating in a series of games called "chapters." Between chapters, characters can acquire new abilities to help them in later chapters, where they will face ever-stronger enemies and challenges. At the end of the game's campaign, the players will have their own version of a fully-playable game that is completely compatible with earlier Aeon's End titles.

The game will come with 4 double-sided mage mats, more than 380 cards, 7 playable chapters, 10 card dividers, 7 sheets of stickers, 4 life dials, game tokens, and 4 boxes of mystery materials to add during the campaign. MSRP is $69.99.
Indie Board and Cards will support the release with two additional items:
The Aeon's End Legacy Reset Pack will include all of the materials needed to replay the entire legacy campaign. The materials in the core game can be used an unlimited number of times, using a separate Reset Pack for each campaign. MSRP is $24.99.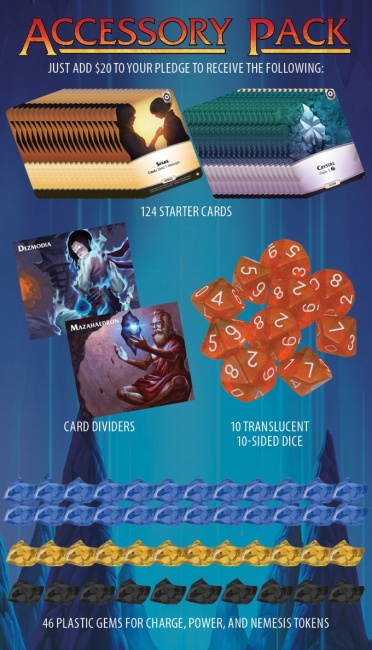 The
Aeon's End Accessory Pack
features upgraded components and helpful materials for use with the game, including 124 additional player cards, 24 card dividers, 10 10-sided dice, and 46 plastic tokens. MSRP is $24.99.
Production of Aeon's End: Legacy is being funded through a Kickstarter campaign that reached its funding goal in the first hour and has thus far attracted $374,584 in pledged support from 3,405 backers (an average of $110 per backer) with 20 days remaining. Backer fulfillment is planned for October, with release into the trade to follow.
Indie Boards and Cards and Action Phase Games cooperated to produce the stand-alone expansion Aeon's End: War Eternal last year (see "Action Phase Brings 'War Eternal' to 'Aeon's End'").