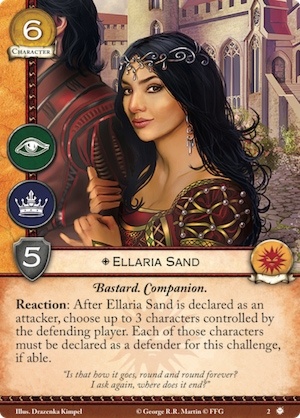 The next expansion for Fantasy Flight Games'
A Game of Thrones: The Card Game
is now available for pre-order.
The desert-dwelling House Martell is the focus of the upcoming
Sands of Dorne
expansion. This expansion focuses on their quest for revenge following the death of Elia Martell, and includes a number of characters and mechanics tied to that theme. A number of characters from House Martell appear for the first time or as new versions, including Doran Martell, the Red Viper, Ellaria Sand, and Nymeria Sand.
In addition to new cards for House Martell, the set has two new non-loyal cards for every faction in the game, a new agenda, and new neutral plots for players to pursue.
MSRP for the expansion is $29.95. A copy of
A Game of Thrones: The Card Game Second Edition
is needed to play.
Click on the gallery below for images of some of the cards included in the expansion.
Last year, Fantasy Flight combined
A Game of Thrones
with the ever-popular board game
Catan
in
A Game of Thrones Catan: Brotherhood of the Watch
(see "
Fantasy Flight Combines 'Catan' With 'Game of Thrones'
").