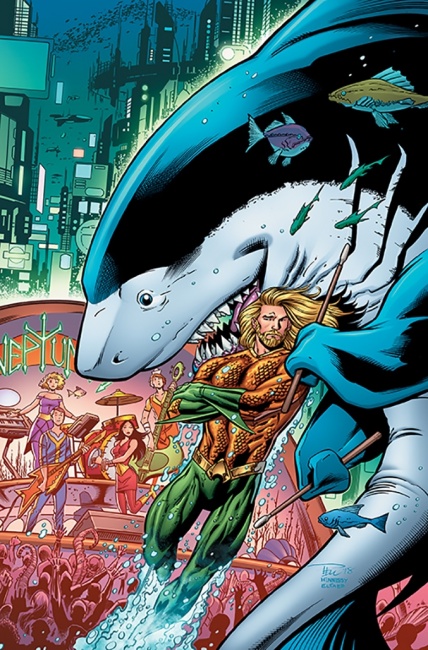 The worlds of DC and Hanna-Barbera are set to collide again with four new one-shot teamups. The issues will feature some of DC's biggest heroes and well-known characters from Hanna-Barbera's 1970s cartoons. The 48-page comics will be in stores on May 30 for an MSRP of $4.99.
Aquaman / Jabberjaw Special #1 from writer Dan Abnett and artists Paul Pelletier and Andrew Hennessey will find the King of Atlantis and the friendly cartoon shark battling a dystopian nightmare created by a new Ocean Master. Jeff Parker and Scott Kolins provide a backup story about first-ever meeting between Captain Caveman, the Spectre, and the wizard Shazam.
Electrifying superhero Jackson Pierce and kung-fu master Hong Kong Phooey will team up in Black Lightning / Hong Kong Phooey Special #1 from Bryan Hill, Denys Cowan, and Bill Sienkiewicz. Parker and Kolins team up again for a backup starring Jason Blood and the Funky Phantom.
Writer Scott Lobdell and artists Brett Booth and Norm Rapmund pair the Scarlet Speedster and Hanna-Barbera's sentient Speed Buggy in The Flash / Speed Buggy Special #1.
In Super Sons / Dynomutt Special #1 from Peter J. Tomasi, Fernando Pasarin, and Oclair Albert, John Kent and Damien Wayne visit the Big City, where they encounter Dynomutt, whose human companion Blue Falcon has seemingly turned evil.
DC launched their teen-friendly Hanna-Barbera line in 2016 (see "DC to Launch New Hanna-Barbera Line"). The line has produced several pairings and series, from a series of annuals (see "Team-Ups that Boggle the Mind"), to a Dastardly and Muttley series from Garth Ennis (see "'Dastardly & Muttley'"), to a new series for the Jetsons (see "'The Jetsons' Make Comics Space Age").
Click on the Gallery for cover images.