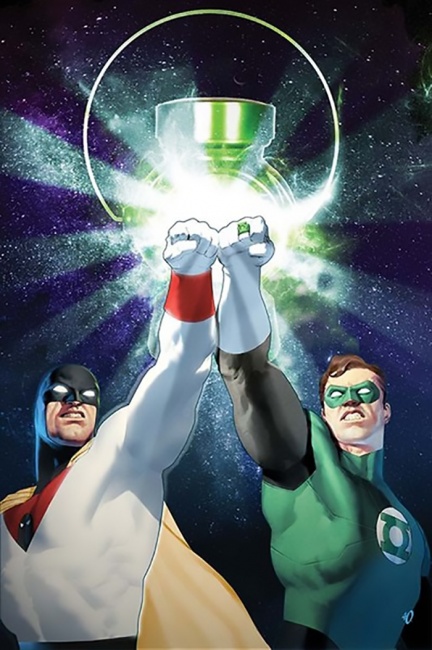 DC is teaming up some of Earth's greatest superheroes with Hanna-Barbera's beloved animated characters for a series of annuals set for release on March 29.
Adam Strange / Future Quest Annual #1 is written by Marc Andreyko and Jeff Parker, with Steve Lieber on art. Adam Strange finds himself on a strange alternate Earth that doesn't have superpowered beings. Jonny Quest, Hadji, Dr. Benton Quest, and Race Bannon are Strange's only hope to return home. Includes a backup feature starring Top Cat by Dan DiDio and Phil Winslade.
A futuristic hero and a pair of Stone Age patriarchs pair up in Mark Russell's Booster Gold / The Flintstones Annual #1. Drawn by Rick Leonardi and Scott Hanna, Booster Gold travels back in time to find out why 25th Century Earth is in ruins, and he needs the help of Fred Flintstone and Barney Rubble to learn the truth. Amanda Conner, Jimmy Palmiotti, and Pier Brito provide a backup starring the Jetsons.
In another time-travelling adventure, Green Lantern and Space Ghost are forced to battle various foes and each other! Green Lantern / Space Ghost Annual #1 is written by James Tynion IV and Chris Sebela, with art by Ariel Olivetti. Howard Chaykin provides a Ruff and Reddy backup story.
Suicide Squad / Banana Splits Annual #1 finds the animated animal rock band on a mission to rescue the Suicide Squad! The story is courtesy writer Tony Bedard and artist Ben Caldwell, and Mark Russell and Dale Eaglesham provide a Snagglepuss backup feature.
DC launched their teen-oriented Hanna-Barbera line in May 2016 (see "DC to Launch New Hanna-Barbera Line"). In February, Hanna-Barbera fans can pick up the first collections for Future Quest and Scooby Apocalypse (see "Hanna-Barbera Series Set for Collections").
Check out the covers for the crossover annuals in the gallery below.