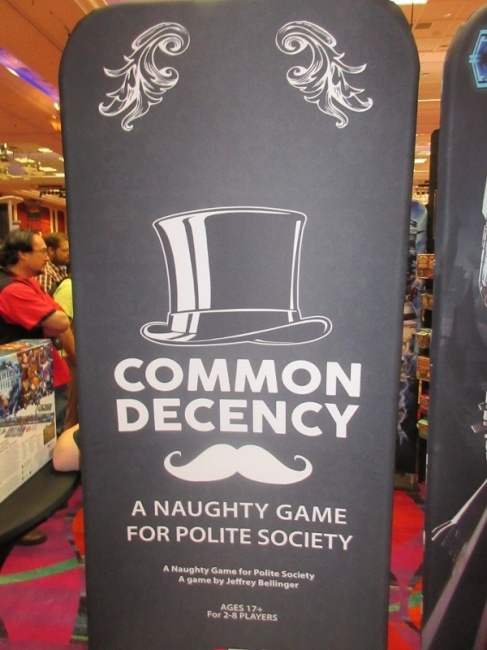 Ninja Division will release two new games by
Killer Bunny
designer Jeff Bellinger. "
Common Decency
is a party game that puts you in the role of being not so polite," Ninja Division Co-Owner and Creative Director John Cadice told ICv2 at GAMA Trade Show. "Players will be asked about some crazy situations. Basically, a 'would you, would you not, or would you abstain from making a decision' on a funny question."
"The questions may be situational," he continued. "You wake up in the morning and you find you've shat your pants or done something awful. 'Would you tell your friends that you've done so, and walked downstairs?' The conditions are quite humorous. It plays very much in a
Cards Against Humanity
sort of experience. The opportunity to expand the product goes on forever."
Subtitled "A Naughty Game for Polite Society,"
Common Decency
has "a very highbrow feel," according to Cadice. It's targeted at players 17 and up; 2-8 players can play.
Bird Brains
is a card game that draws on Bellinger's background as a math teacher. "He works in education and has worked for a very long time developing a product that combines some of the fast and fun card play aspects of games like
Uno
and other products that are matching, pairing, and cleaning," Cadice explained, "and then adding additional factors like colors, shapes, and some light mathematical matching (positive, negative numbers, integers) and then building them into a game that you don't actually know that you're learning at the same time. I wouldn't necessarily call it an educational product and turn people off to it, but it's a very, very colorful, fast-playing match-and-smash game like that with a lot of really cool, colorful characters. It reminds me of the Tiki Room from Disneyland; [laughs] it's really, really cool."
Neither street date has been set; Cadice estimates roughly Q3 for both.