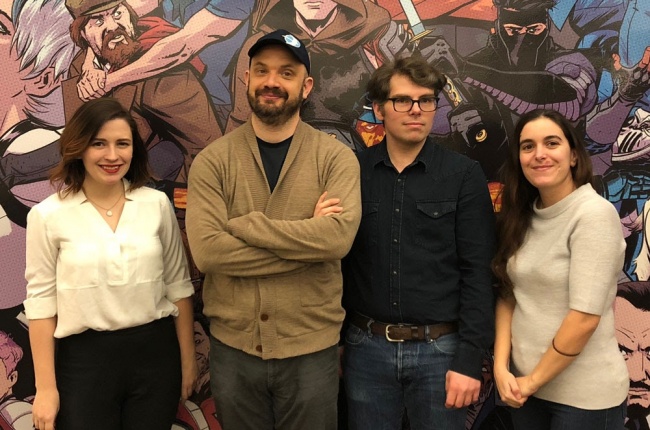 Valiant Entertainment has promoted four staff members.
Retail veteran Atom! Freeman has been named Vice President of Sales. He began his career with Brave New World Comics in Santa Clarita, California, eventually moving from manager to owner and earning the 2008 Will Eisner Spirit of Comics Retailer. He worked for Fantagraphics and Top Cow before joining the Valiant sales team in 2011.
Peter Stern has been promoted to Director of International Publishing & Merchandising. He will work under Russell Brown on collected and digital editions, foreign language publishing, and licensed product branding and development. Stern joined Valiant in 2012 as Publishing and Operations Manager.
Victoria McNally will become Senior Marketing & Communications Manager, promoted from the position of Marketing & Communications Manager. She will focus on social media strategies and work with Director of Marketing Mel Caylo, who recently joined the company (see "
Mel Caylo to Valiant
"). Prior to joining Valiant in 2017, McNally wrote for various press outlets, including MTV News, Bustle, Revelist, and Nerdist.
Annie Rosa has been promoted from Sales Coordinator to Sales Operations Manager. She will report to Freeman, working with retailers on strategies for hand-selling Valiant products and communicating with fans about the publications.
In addition to Caylo, Valiant also recently added Karl Bollers as Editor (see "
Lion Forge, Valiant Hire Editors
").