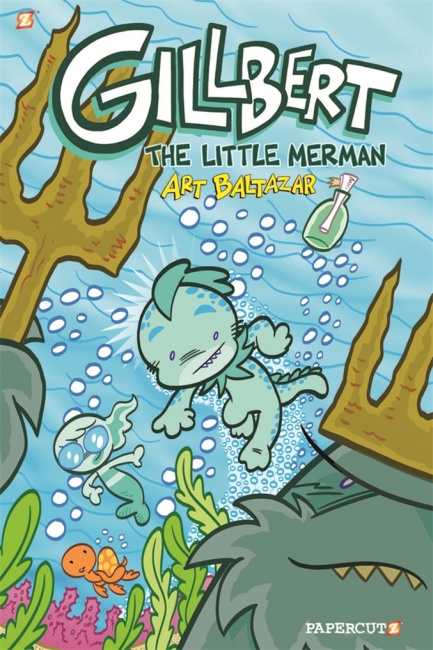 Tiny Titans writer Art Baltazar is turning his pen seaward in a new series from Papercutz. Gillbert is an 88-page, full-color graphic novel that will be available in both paperback and hardcover formats on September 11. MSRP for the 6" x 9" volume is $9.99 and $14.99 respectively.
Gillbert, the son of King Nauticus, who rules over all the oceans, lives in the deepest part of the sea. He's destined to be king, but when he meets an amphibious mermaid, he sets off to explore unknown parts of the ocean, meeting new underwater creatures along the way.
Baltazar and co-creator Franco won the Eisner and Harvey Awards for kids publications for their work on Tiny Titans (see "2011 Eisner Award Winners" and "The 2011 Harvey Award Winners"). The pair are teaming up again later this year for Superman of Smallville from DC Zoom, the DC's new middle grades imprint (see "DC Shares More Offerings for DC Zoom and DC Ink").
Click on the Gallery for a preview of Gillbert.