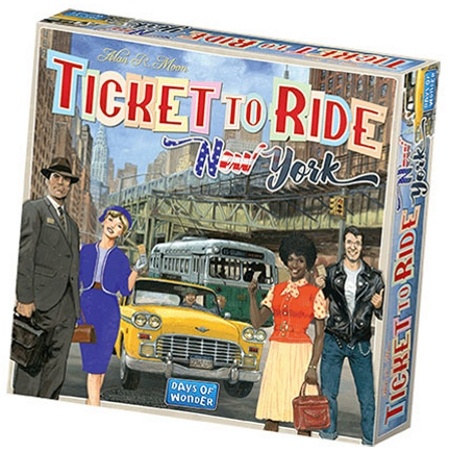 Days of Wonder has created a low-priced, more casual expansion for
Ticket to Ride
that will be sold as an exclusive in the Target chain. Fans of Alan R. Moon's
Ticket to Ride
will be invited to visit Manhattan with the new
Ticket to Ride: New York
, which Days of Wonder will release in July.
Ticket to Ride: New York
is set in that famous city, with players trying to link famous landmarks like Central Park and Times Square with other popular destinations from the Bronx to Midtown, using taxi cab pieces instead of the familiar railway cars. It uses the same core system, but with a smaller map and shorter routes, it offers a quicker playing experience of about 15 minutes.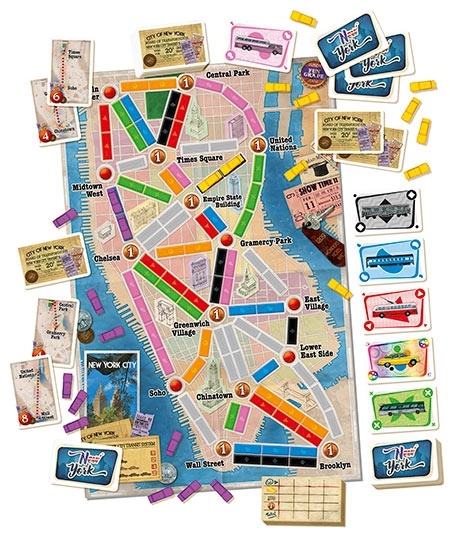 The game comes with a game board showing lower Manhattan, 60 plastic taxis, 62 cards, a score pad, and a pencil.
Ticket to Ride: New York
is intended for 2 to 4 players, ages 8 and up, and plays in about 15 minutes. MSRP is $20.00.
Last year, Days of Wonder took the game franchise to France and the Old West (see "
France, Old West Featured in 'Ticket to Ride' Expansion
").