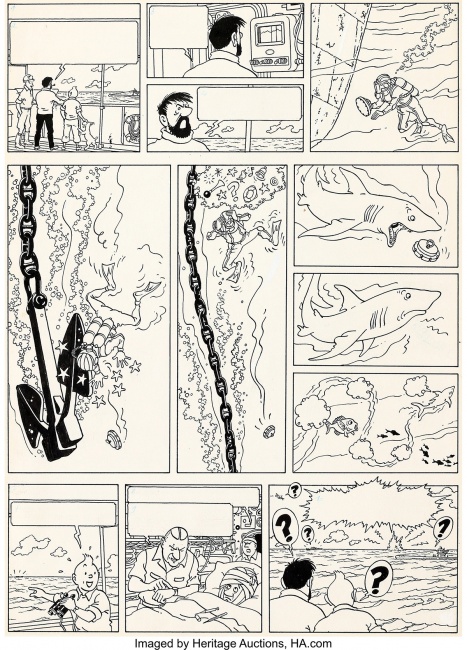 A rare set of Tintin drawings took the highest bid among nearly 300 pieces in a Heritage Auctions sale dedicated to European comic art. Several pieces of Herge's artwork were up for bid. The most valuable Tintin lot in the auction, an inked 12-panel page and pencil layout from Herge's "The Red Sea Sharks" (originally published in
Journal Tintin
, 1958), sold for $425,000. The pre-auction estimate had anticipated the piece would go for as much as $720,000.
In total, the auction, which took place over the weekend in Dallas, Texas, took in nearly $1.3 million. Other notable pieces in the auction include artwork from
Corto Maltese
by Hugo Prattt, which sold for $62,500; Moebius pieces including a page from
The Black Incal
, $21,250, and artwork from Upon a Star, $13,750; and a Milo Manara illustration that sold for $11,875.
The auction also included a few pieces from American artists. An R. Crumb parody advertisement from
Weirdo
#15 sold for $20,000; a page of Jack Kamen's art from
Weird Science
#9 brought in $18,750; and a Will Eisner splash page netted $16,250.
While certainly prized, the "Red Sea" piece isn't the most valuable Herge artwork to come to market. In 2016, a page from the book
Explorers on the Moon
earned the equivalent of $1.64 million (see "
Original Tintin Art Earns Record Sum at Auction
"). The original
Adventures of Tintin
endpapers sold for $3.5 million in 2014 (see "
Comic Art Sells for $3.5 Million
"), and a
Tintin
cover sold for $1.6 million in 2012 (see "
'Tintin' Cover Sold for $1.6 Million
").
The high bid for the R. Crumb piece pales in comparison the record for his work: Crumb's cover art for the Ballantine
Fritz the Cat
collection from 1969 sold for $717,000 just over one year ago (see "
New Record Price For American Comic Art
").