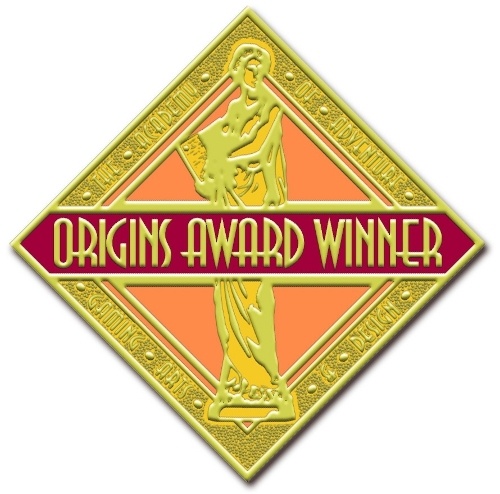 The Academy of Adventure Gaming Arts & Design announced the winners of the 2018 Origins Awards, presented Saturday night at the ceremony at Origins Game Fair in Columbus, Ohio. The nominees and winners were selected by the Academy.
Game of the Year
Gloomhaven
Cephalofair Games
Best Board Game of the Year
Gloomhaven
Cephalofair Games
Best Card Game of the Year
Ex Libris
Renegade
Best Family Game of the Year
Azul
Plan B Games
Best Roleplaying Game of the Year
Adventures in Middle-Earth
Cubicle 7
Best Roleplaying Supplement of the Year
Dungeons & Dragons Xanathar's Guide to Everything
Wizards of the Coast
Best Miniatures of the Year
Warhammer 40,000 8th Edition
Games Workshop
Best Game Accessory of the Year
Terraforming Mars Organizer
Broken Token Gaming
Best Collectible Game
Star Wars Destiny: Awakenings Booster
Fantasy Flight Games
Academy of Adventure Gaming Arts & Design Hall of Fame
Eric M. Lang
Ken St. Andre
The Hall of Fame honors people who have made critical contributions to gaming, including designers who have elevated game design to an art, those who elevate the art found in game design, those who made contributions to the business side of gaming, and those whose contributions have been in service to the industry as a whole. It also includes a number of games and game related materials. Inductees include Don Turnbull, Tod N. Shaw, E. Gary Gygax, Steve Jackson, Charles Roberts, Greg Stafford, Rick Loomis, Jim Ward, Sandy Petersen, Julie Guthrie, Jordan Wiseman, Tracy Hickman, Margaret Weis, Lisa Stevens, Mike Elliott and Jennel Jaquays.
Here's the full list of the many fine games that were nominated for awards this year (see "
Origins Award Nominees
").
Here is a list of winners for the 2017 Awards (see "
2017 Origins Award Winners
").