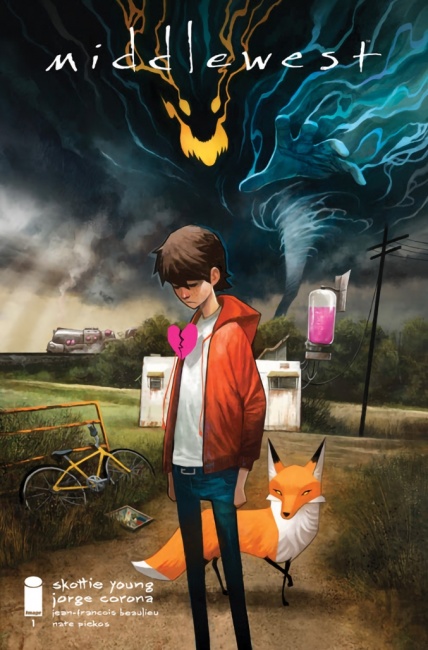 Skottie Young (
I Hate Fairyland, Deadpool
) and Jorge Corona (
No. 1 With A Bullet, Feathers, Big Trouble in Little China: Old Man Jack
) are going on a fantasy adventure to the
Middlewest
in a new release from Image Comics. Mike Huddleston (
The Strain
) covers the series. The first issue of the series will be in stores on November 21.
In Middlewest, Abel must navigate the lands between the coasts on a search for answers that will help quell a storm that knows his name. Young describes it as a blend of "a Don Bluth movie, Miyazaki, the dark adventures of old Henson movies, and my childhood."
Young has a few projects in the queue. Bully Wars, another Image release, will launch in Septmeber (see "'Captain Underpants' And 'Big Nate' Graduate To High School"). Young is also producing variant covers Marvel's Mr. and Mrs. X (see "'X-Classified' Revealed - 'Mr. And Mrs. X'") and bonus stories for Fantastic Four (see" The Fantastic Four Return With Launch Parties, Midnight Release, Nationwide TV Spot").